2023 marks our 50th anniversary of being one of the best staffing agencies in California! To celebrate half a century of humanizing staffing, we got a makeover and have fully embraced our fabulous golden years.
We can think of a million reasons why companies and job seekers should choose Helpmates as their staffing agency — but with short attention spans these days, we narrowed it down. Without further ado, here are 50 reasons to choose Helpmates.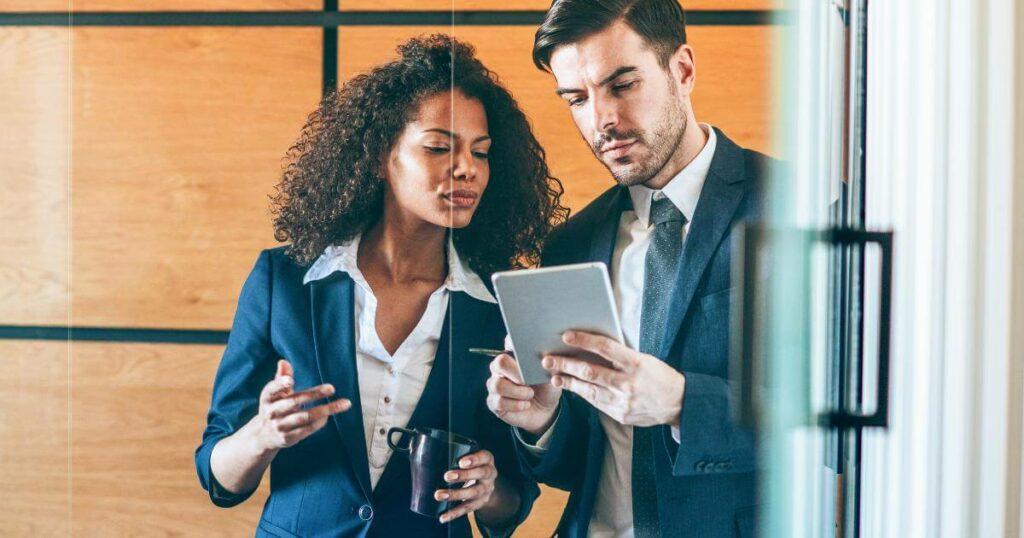 For Companies Seeking Talent Solutions:
1. Talent solutions for your evolving needs
Helpmates can get you the candidates you need, whether that's through temporary, temp-to-hire, direct hire, managed services, or on-premise staffing.
2. Many industries served
Focusing on select areas of specialization, we can help you find staff for Administrative, Accounting & Finance, Distribution and Logistics, Manufacturing and Production, HR, Customer Service, and Non-Clinical Healthcare roles.
3. 100% Placement Guarantee
We are so confident in our unique hiring process that we offer a 100% guarantee. If you are unhappy with the work performed by a Helpmates Specialist, we will not charge you as long as you participate in our quality control program.
4. Defined recruiting method
Accelerated by technology, Helpmates uses cutting edge tools to provide faster and easier access to thoroughly vetted candidates.
5. A reliable workforce
Not only do we provide faster access to qualified candidates, we retain them longer, too. Helpmates specialists hold an average record of 17.1 weeks on assignment — well above the industry average of 10 weeks, according to the American Staffing Association.
6. Helping you maintain a legal workforce
Helpmates' employee verification process starts with E-Verify, a Homeland Security system that allows us to confirm the eligibility of employees to work in the United States.
7. We perform the necessary background screens
In addition to E-Verify, Helpmates handles all background checks, drug screens, live scan, and reference checks—based on your requirements.
8. 92% highly recommended
We are Great Recruiters certified and proud of our 4.77/5 star rating. This certification is only given to staffing firms who go above and beyond to gather feedback from clients and candidates, using it to continually improve the staffing experience.
9. Best of Staffing
Before we became Great Recruiters certified, we were recognized as the top 2% of staffing agencies in the nation for providing superior client and talent service — for 12 years in a row.
10. Quarterly educational webinars
You'll stay current and compliant on the latest labor market trends, labor law updates, employee compliance, and risk management.
11. Certified Staffing Professionals (CSP)
All Helpmates staff are required to earn CSP certification through the American Staffing Association. This means we officially manage your staffing program with the highest levels of professionalism and integrity, using proactive human resources best practices.
12. Safety Standard of Excellence
Helpmates is the first in the country to earn this mark from the American Staffing Association (ASA) and National Safety Council. It signifies industry-wide best practices when it comes to the safety and health of temporary employees.
13. Cost savings
Partnering with the right staffing agency can save your company time and money.
14. Exceptional value
Helpmates is committed to providing exceptional value to our clients. Fees are based on several factors, including account volume, search criteria, workers' compensation costs, order exclusivity, and lead time for our staffing managers.
15. 360° Support
We're all about people first, on purpose. We provide unwavering 360° support so your entire workforce can thrive.
16. Kind and supportive service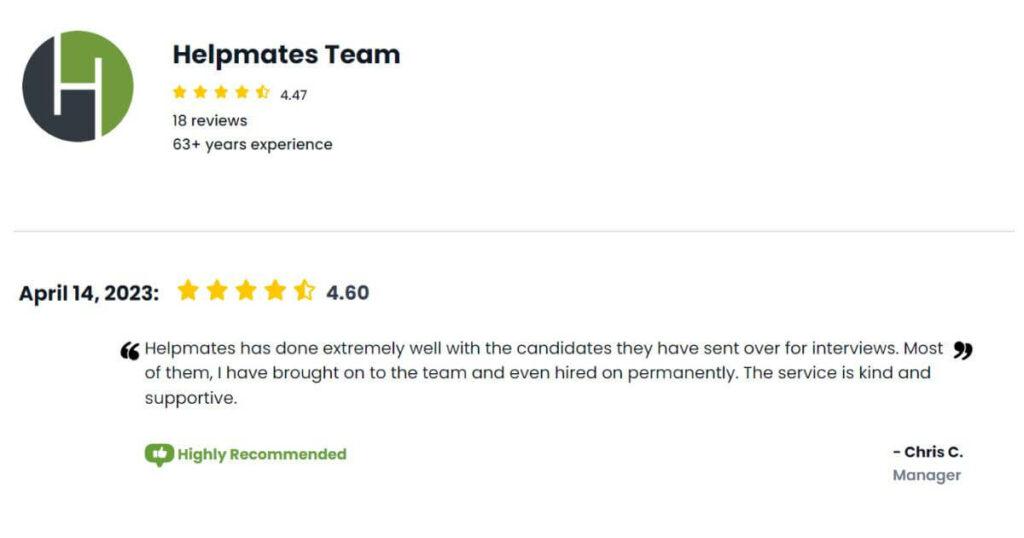 17. Impacting people's lives
Our work is driven by purpose and fueled by the ambition to make a difference in the lives of those we serve. Our commitment to service has allowed us to impact more than 250K lives through employment since 1972— and counting!
18. Successful staffing, even in a talent shortage
Here's proof.
19. We can help reduce turnover
Here's an example of how we reduced warehouse turnover by 40%.
20. We put the "Art" in Partnership
Helpmates values partnerships above all else. You'll enjoy a deeper relationship with a staffing partner that's attuned to your individual needs.
21. Experienced leadership team.
Helpmates leadership has a combined 62 years of staffing expertise between them.
22. Affiliated with the American Staffing Association (ASA)
This means we have access to a wealth of curated resources specifically for staffing firms, so you'll benefit from the most updated and on-trend information to keep your business running at its prime.
23. Members of The Distribution Management Association of Southern California
As a distribution and logistics staffing agency, we're members of this premier trade association in Southern California for logistics and supply chain professionals.
24. Inclusivity and diversity
Helpmates is a place where everyone can thrive, and we look forward to helping companies build inclusive work environments, too.
25. Powered by TalentLaunch
In 2021 we joined the TalentLaunch network, a nationwide network of independently-operated staffing and recruitment firms under common ownership. This directly benefits you because we have access to tools and resources to deliver a superior customer experience and faster access to qualified candidates.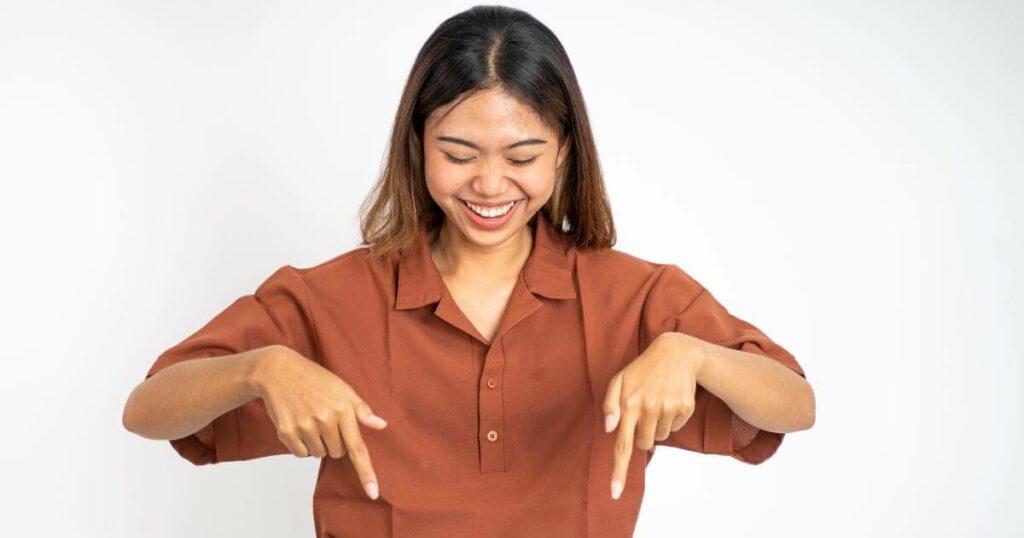 For Job Seekers:
26. It's free!
As an applicant, you will not pay for any of the services Helpmates provides. Hooray!
27. Career flexibility
Don't just find a job; manage your career. At Helpmates, you can choose from temp, temp-to-hire, or direct-hire opportunities.
28. Start working fast
Our recruiters want you to start thriving and earning right away!
29. Get noticed, not get lost in a black hole
You'll get first access to exclusive jobs not found on any other job board. We'll get you in front of the right people, right away.
30. There's something for everybody
We've been working with top employers across Southern California for 50 years and have access to all sorts of career opportunities. Consider us your go-to warehouse, customer service, and HR staffing agency. Discover all of your job options here.
31. Engagement at every stage
We're committed to engaging with our candidates. Expect multiple touchpoints throughout your working experience, reward/recognition programs, and quality checks to make sure the position lives up to what you were expecting.
32. On average, it takes less than 30 seconds to apply
You don't need to spend hours doom scrolling through job boards anymore; our AI chatbot and personalization will instantly match you with jobs that are a fit.
33. Set up job alerts
Stop searching and start subscribing – we'll email you jobs that match the job titles, locations, skills, and interests set by you.
34. Thorough hiring process
Think of Helpmates as your inside source. We take the guesswork out of your job search by getting personal and specific feedback from hiring managers so that you're never left wondering how the interview went.
35. Responsive recruiters
You'll get the A-Team every time and never get lost in the staffing shuffle. We make ghosting a thing of the past!
36. Earn extra cash with our referral program
Refer a friend and get paid. Why stop there? Refer 10 friends and pay for your next vacation!
37. 92% of job seekers highly recommend us
We have a 4.7/5 star candidate rating for a reason. Read what applicants have to say about us HERE.
38. Benefits (yes, even through a staffing agency!)
Nobody should have to decide between having a great job or having great benefits. You'll be eligible for affordable health and prescription coverage, sick leave, 401K, competitive pay rates, reward and recognition programs, and lucrative referral bonuses.
39. Ongoing Support
We'll help you determine what makes sense based on your experience, ambitions, and capabilities. We'll check in, send reminders, and provide you with ongoing support to be your professional best. Even when you find the perfect match, we'll stay in touch – we're always with you.
40. Talent Community
When you join our talent community, you'll get a monthly newsletter highlighting upcoming events, industry news, and behind-the-scenes stories of our culture.
41. It's ok to turn down a job
We expect open communication from our job seekers and if you're not interested in a position, you are free to decline. Your job satisfaction and success is our goal and we'll work together to achieve it.
42. Many convenient California locations
Helpmates currently has offices in Irvine, Cerritos, Los Angeles, and Buena Park. Yet, thanks to belonging to the TalentLaunch network, we have the potential to find you a job just about anywhere in the country!
43. We'll help you with your resume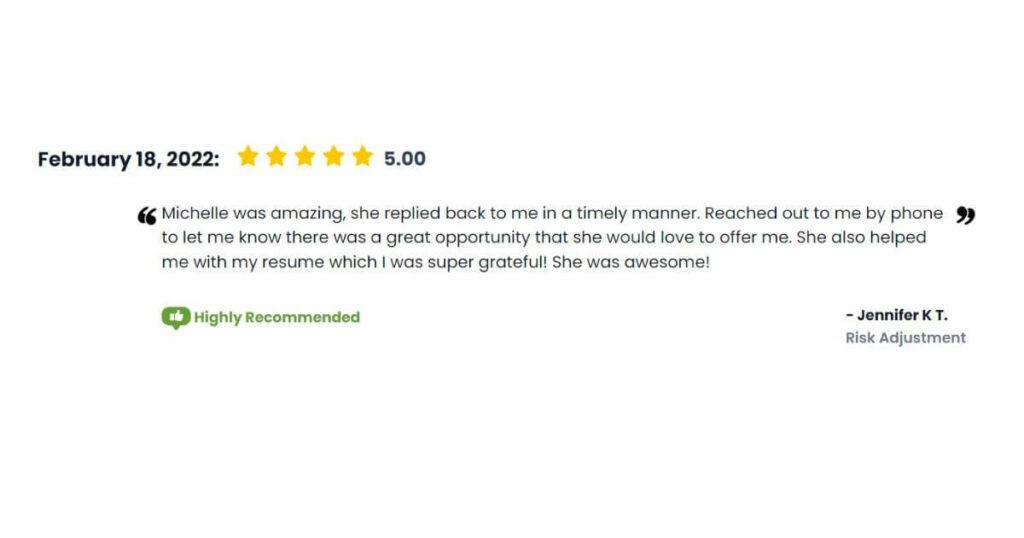 44. Gain a competitive edge
With advice and other free support services like resume revisions (see above), interview prep, and other trends, you'll stand out among the competition.
45. Your peace of mind is our specialty
Just take Edward's word for it: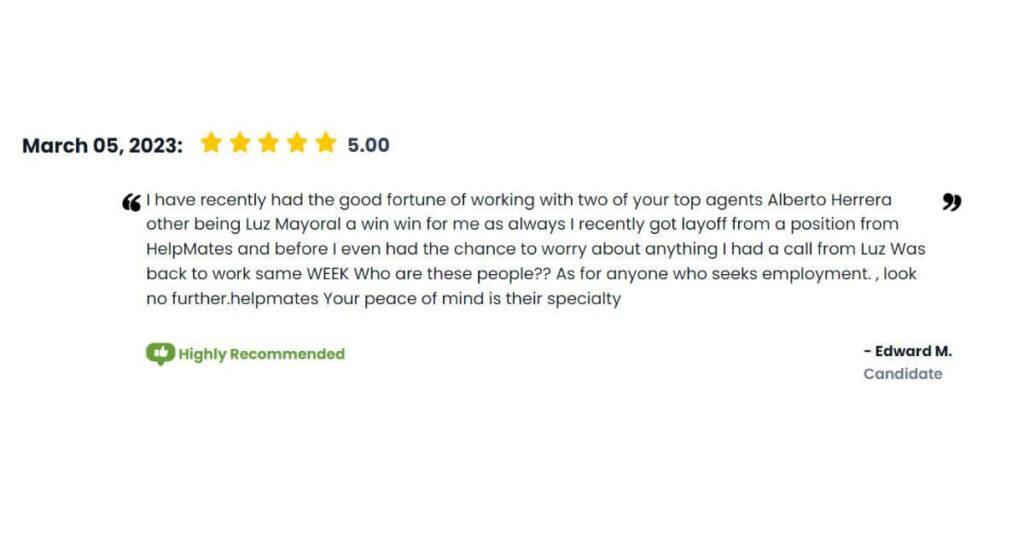 46. Get treated like a person, not a number
People first, on purpose: that's our motto. Blanca reviewed: "Most importantly, Xóchitl treated me like a human and not a number."
47. Committed to inclusivity and diversity
Helpmates is a place where everyone can thrive.
48. Safety first
Through our safety and risk management efforts, Helpmates reduces your chance of a job-related injury by working with clients to develop safety programs. This ensures that you are in the safest possible work environment.
49. We support our local communities
From #WalkUnited to collecting toys for the Orangewood Foundation, Helpmates intentionally makes an impactful difference in people's lives inside and outside of work.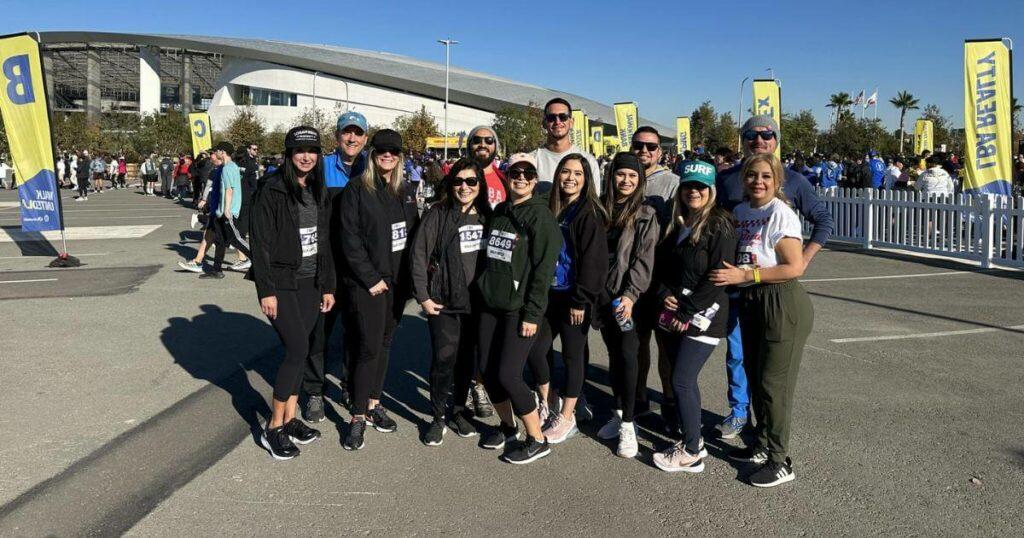 50. Weekly pay
Your weekly paychecks are conveniently electronically deposited into your bank account or pay card.
Helpmates: Fifty and Fabulous
While a lot has changed since we opened our doors in 1972, one thing will always stay the same: our purpose of making a positive impact on the lives and businesses we serve. And that's what makes us the best California staffing agency.
Did we miss any? Let us know!