In an unstable economy, businesses are striving to find unique ways to achieve more. While strategic planning is a critical component of any business plan, there are a range of pieces to be placed in the strategic planning puzzle. One piece of the puzzle you may not have considered is career planning.
Career planning is essential to effectively manage your human capital investment.
Career planning is, in essence, a set of very simple steps. Yet the potential impact is profound. Here are some of the benefits of career planning on your business: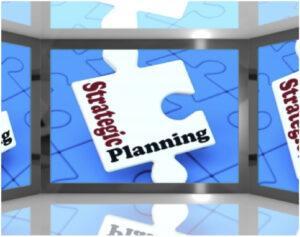 More invested candidates. Here at Helpmates, we meet with talented professionals across a range of industries. Higher-level candidates, and even some entry-level candidates, often have expectations or a desire to understand the "big picture" of a position. Demonstrating how your organization will support a candidate with their career plan can help  engage well qualified candidates by showing how they might fit into the longer term vision of the organization.
Better talent management. Sure, every business wants talent that is excited for their positions, but wouldn't it make your life easier if you also knew what your talent wanted and expected in five years? As your senior team plans to fill strategic gaps in your organization down the road, understanding the expectations, goals and plans of your talent can make filling those roles (and grooming talent for those roles) significantly easier.
Highly engaged talent. Career planning can also be an incredible retention tool. Employees who have a clear understanding of their roles and paths within a company are much more likely to work toward their goals, rather than toward the end of the day. Likewise, employees are less likely to be lured away to a shiny new career opportunity elsewhere, when they know that an exciting opportunity exists for them at your company.  Productivity increases, and your talent is much more likely to stay long term with your organization – minimizing turnover and getting results for your business.
Tips For Career Planning in Your Strategic Plan
Start at the end. From a staffing perspective, take a look at your strategic goals and how talent figures into those goals. Start at the end, and take steps back to assess the types of people you have in place, who you'll need, and then how to get to the right balance of talent (using career planning to take your current employees where they need to be, and for staffing planning to fill in any gaps).
Get your managers on board. It's integral for your managers and ground-level employees to buy into career planning as an effective tool and not just another round of paperwork and meetings. The career planning process should be collaborative, and both sides should have clear goals and steps to take afterward.
Make it an ongoing process. Here's the thing about plans of any kind: They change. This goes for career planning too. Sometimes the decisions we make or steps we take fluctuate, even after the best of planning – there's nothing wrong with that. If you ensure that career planning is an ongoing process, your plan (and your employees' plans) will reflect any changes that may have occurred, and will be updated to take the most current information into consideration. We recommend that individuals revisit their career plans every six months in order to stay on top of their progress toward their goals.  For company staffing plans, revisiting plans twice per year should also do the trick, but your organization and employees may necessitate more or less frequent assessment.
Don't assume your employees know where they want to go. For those with a concrete idea of where they'd like their careers to go over the years, career planning may be an easy process. But many of your employees may not have a clue where they fit into your organization long term – or how to get there. Your managers and leadership should take a coaching approach to career planning, helping employees realize where they may want to be, but also recognizing strengths and attributes in your employees that can help lead to suggestions and realizations of where they could go within your company some day.
Career planning can be an effective tool in your strategic business planning. What else is your organization doing to more strategically manage your human capital investment? Contact Helpmates for best practices!
Image courtesy of FreeDigitalPhotos.net/Stuart Miles