When someone breaks up with us, the usual (unspecified) reason often is couched as "It's me, not you."
Think back on why you may have left past employers. Was it because you disliked your colleagues? Possibly. Was the work boring? Perhaps. Was the commute too long? That's a given here in Southern California, so congrats if you found a position a short drive away.
All of these are valid reasons for leaving a job. But the number one reason your employees tend to bail on you: they don't feel appreciated and/or they feel disrespected. Frankly, both reasons really are two sides of the same coin: it IS you!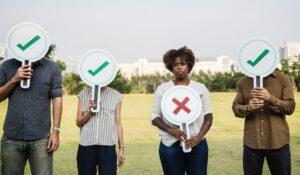 When 66 percent of employees say they would quit if they feel unappreciated, it's time to take stock of how your company overall or you as a manager treat your team members.
Some Nationwide Employee Dissatisfaction Statistics
With unemployment still at historic lows across the country (as of August 2019), it's really no wonder your employees are wondering if another position at another employer might be better for them. Some interesting 2019 statistics (from different employee surveys):
More than a third of workers are actively or "casually" looking for another job.
73 percent of Generation Z workers (those about 23 or 24 and younger) reported that they left their job because it "didn't meet their expectations."
Almost half of all workers (48 percent) have left a job because it "wasn't what they thought it would be."
68 percent of employees said they would think about leaving their current positions if they "didn't feel supported" by "more senior employees."
81 percent of those actively looking for work said the main reason they started a job hunt was because they weren't satisfied with their current work environment.
75 percent of job hunters said the fact that they were passed over for a promotion was a big push for them to start looking elsewhere.
26 percent of workers said that recognition for their efforts was one of the top three reasons why their stay with their employer, yet 17 percent said their boss/employer never recognized their work.
Some Southern California Retention Statistics
The good news for Los Angeles and Orange County area employers is that employee turnover for hourly team members actually is less than in 30 other large metro areas across the country. The region is, in fact, in the top 10 of metro regions with the longest employee tenure: 208.4 days in 2018. (Although it is sad/important to note that 208 days is only about seven months: hourly employees don't even stay a year with their employers.)
Unemployment in Orange County was just 3.2 percent in July while it was 4.5 percent in Los Angeles County. Yet even with such a low unemployment rate, Southern California's workers are exceedingly burnt out, with half of workers in both Los Angeles and Orange counties among the most so, according to the Orange County Register link, above.
Yet, according to the article, "locals may be sticking at a job longer than they historically would" and "despite all the chatter about a regional 'exodus' of population, California residents are among the nation's least likely to move….[which] may lower turnover."
The cost of replacing workers who quit you costs more in a tight hiring market such as today's. That's why it's smart to partner with Helpmates so that you quickly can get a new worker to replace your departing employee quickly. We make sure our associates have the skills you need so that productivity remains constant while you search for a replacement…or take on our associate as your own.
Contact the Helpmates branch nearest you to learn more.