Since most of us spend more than a third of our waking hours Monday through Friday at work (one arguably could make the case that it's more than a third after adding on commuting time and the business of getting ready for work in the morning), all of us more  than likely want an enjoyable one-third day. Maybe even a great one-third day. Certainly not a miserable third.
Many of us, therefore, may think we need to find the perfect career or certainly perfect job in order to be happy.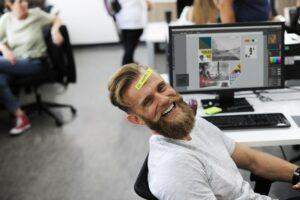 But even perfect jobs/careers have their bad sides. We know of one physical therapist, for example, who loves treating her patients. The other four hours of her day typing up notes and treatment plans? Not so much: she truly hates the paperwork part, so much so that she's seriously thinking of changing careers.
So the first thing we need to realize is that we're not going to be happy for all eight-plus hours on all five days per week.
But we can work to make work pleasant most of the time. Here's how:
Plan for it.
What we mean is this: you're not going to stumble into happy circumstances on the job. Instead, you need to know what kind of working environment you enjoy along with the work you like to do. You also may want to consider the personalities of your coworkers.
Another real life example: we know of one woman who took a job in a cube farm that was dark most of the time because her colleagues who worked near the wall of windows on the southeast side couldn't see their computer screens most of the day because the sun shined right onto them.
She also noticed during the two interview she had with the hiring manager that her future colleagues seemed to keep pretty much to themselves most  of the day. The room was dark and exceptionally quiet.
A voice inside her told her she would be miserable but she took the job knowing she would enjoy the actual work and believing its great benefits – quitting at 2 p.m. every day in the summer, five weeks of paid vacation a year – would make up for the quiet, dark room.
She was miserable and ended up leaving the job within six months (before summer and before she qualified for even one week of vacation).
So ask yourself some questions:
Do you like working alone or as part of the team most of the time?
Do you need windows?
Do you need an office where you can close the door and concentrate?
How do you feel about colleagues in an open office playing their radio/streaming music quietly? Televisions on the wall?
Ask your boss how she prefers to manage people. Autonomy-with-guidance-as-needed or is she someone who checks on progress every day? Does her management style jibe with how you prefer to be managed?
And so on.
These questions may sound trivial, but if you were to talk to either of the women mentioned above, you'd understand that the trivial – the details – are critical to being happy at work. Even the work you love to do can become a burden when the where, how and some of the what makes you miserable.
If you've found yourself stuck in a position that you thought would be a great fit work but you found soon enough comes with aspects that make you despondent, consider taking on a temp-to-hire position through Helpmates Staffing. These are temporary assignments that allow you to take work in a position for about three months before signing on more permanently (if both you and your on-site manager agree). These types of temporary positions are a terrific way to "test drive" a company's and department's culture to see if you enjoy not only the work, but also your colleagues and work environment.
Take a look at some of our current job opportunities. (Use Advanced Search and click on Temp-to-Hire under Employment Type.)