Getting to a post-COVID19 world is going to take some time. Even as we gingerly make our way to reopening our economy, California has been hit with a big increase in infections and some business restrictions have been reinstated.
But whether it takes months or a year or more, the hiring scene will return to some resemblance of how it was before the pandemic.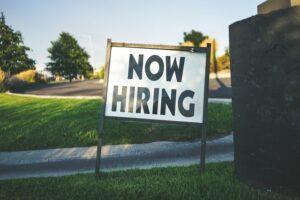 Rather than wait months to prepare for that time, it's wise for employers to start getting ready now.
Whether you've put hiring on hold, are hiring more than you did before March, whether you're planning another reduction in force, or even if you're worried that another complete shutdown is in the offing, here are some tips to help you prepare for the days when hiring returns to some semblance of normalcy.
First, some questions to ask:
How has the pandemic and the shutdown changed your particular hiring process? Many people have gone to a virtual interview process, but some have not. What do you see keeping and what will you change when the pandemic is behind us?
You undoubtedly are reading many articles such as this one that discuss what recruiting and hiring will look like post-pandemic. From your reading and discussions with others, how do you think your talent acquisition process – your sourcing, your talent pipeline management, your onboarding steps, etc. – will need to change?
Digging deeper:
Look at your recruitment strategies now. If you're currently hiring, are you attracting the right candidates now? If you're not hiring, were you attracting the right type of person before the pandemic started? Where were the roadblocks and/or weaknesses in sourcing, interviewing and onboarding and how can you fix them?
Technology can certainly help you now and in the future. Do you need to upgrade your video interviewing capabilities? Should you invest in some chatbot capabilities so that you can automate answers to candidates' typical answers, thus freeing up your recruiters' time for more important tasks? Time to purchase some resume screening software?
Could your recruiters themselves use some additional training or certifications so that they're fully acclimated to recruiting/HR technology and laws?
What about your recruiting policies? Have you looked at them lately? Do they need updating to reflect the changes you've already made – and will make?
Are you reaching out to passive candidates? Yes, you're probably able to choose among the best-of-the-best unemployed candidates now. But this employer's hiring market will Connecting with – even hiring – passive candidates now so that they'll return your emails later is a wise move.
Even if you're not hiring now, keep in touch with the unemployed professionals reaching out to you now. After all, someone who contacts you even though there's no current job opening is someone who is assertive, a hustler. Probably someone you might want on your team someday!
If you're not already staying in touch with former candidates and passive candidates, invest in some regular email outreach (newsletters). If you've texted in the past, keep texting now. Regular communication now – even though you may not be recruiting – will pay dividends when you are.
Good candidates will become "hard to find" again
By taking the time now to look at what is and isn't working in your current recruiting process, changing it as needed, and continuing to communicate with candidates past, present and possibly future, your company can create a great sourcing, recruiting, onboarding, and communication process now, ensuring that you're ready for the future.
Are you getting ready for a big hiring push in the near – or far – future? Partnering with a recruiting firm now can help make that process run smoothly and effectively when you need it.
Contact Helpmates to learn how we can help with your recruiting needs now and post-COVID19.