Whether you call it a "talent war" or a "skirmish," one fact is certain: businesses today are in extreme competition for talented professionals. And that competition puts many job seekers at a distinct advantage.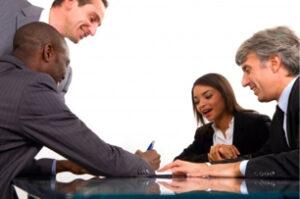 Without a doubt, today's businesses want top talent — and they are willing to provide competitive compensation in order to get it. Position yourself strategically — one excellent way is to partner with a staffing firm —  and there is incredible potential to receive not just one job offer, but multiple offers.
But how do you handle multiple offers and potential counter offers from employers? These tips can help you weigh the benefits of each offer and make the best decision for your family and career:
Think about your current employer first. If you've received multiple job offers and visit your employer to review, you may receive a counter offer. This counter offer could be very tempting – you wouldn't have to learn new processes and procedures, or memorize new names for your coworkers. You'd keep the old, familiar feeling, while also gaining a higher salary or other fringe benefits. Seems like an ideal situation, right? If you've already decided to leave but feel lured by the counter offer, consider this: If you have to turn in notice and announce you're leaving in order to get a promotion or salary increase, does your employer really value your contributions? Or are they simply buying time to find your replacement? Or perhaps they realize that retaining one employee is cheaper than finding and hiring a new one. While the initial counter offer could seem appealing, the long-term ramifications of accepting that offer may not align with your initial plans and goals for seeking new employment.
Get it in writing. So, you've decided to consider multiple offers from employers – congratulations! But until the choice has been made, it might be best to temper your excitement and focus on the task at hand. First things first, ensure you have any job offers in writing before making a decision. Verbal offers are not legally offers, and employers may — and this could be unintentional or a miscommunication, but it does happen — change the details of your verbal offer. If you've already turned down another employer, you'll end up stuck with whatever is left. Alert the HR representative making a verbal offer that you are happy to consider the offer, as soon as you get it in writing.
Be careful. Multiple offers are unsurprising to employers today — remember that talent war mentioned above. That doesn't mean, though, that they enjoy being pitted against one another. It's important to tread carefully and ensure you're communicating thoroughly with employers. You most definitely don't want them to feel that they're in a sort of game. If you've received an offer from one employer while still interviewing with another, wait until the final interview and alert the recruiter that you have received an unexpected offer from another employer. Reassure them that they are your top pick, but that the other offer is appealing. Ask them when they might be considering making a hiring decision, then leave the ball in their court. If they are strongly considering hiring you for the position, they will likely be motivated to enter the fray and make their own offer. If, however, they decide to back out at that time, know that you've been totally honest and upfront with the employer, and that you are choosing the employer who is most invested in your future.
Don't burn bridges. Regardless of which employer you choose, always end the decision with personalized thank you notes. Communicating with an organization after you've turned down a job may feel awkward – kind of like running an old boyfriend or girlfriend at the grocery store.  But, sending out a quick note thanking each employer for its consideration officially closes the hiring process while leaving them with a positive impression of you. Sure, you may have chosen another opportunity this time, but you never know when you will cross paths with either that employer again, or with someone you met during the interview process. It is always better to be gracious and honest with employers!
Before you can choose between multiple job offers, you need to jump feet first into your job search. Helpmates partners with talented professionals like you to match them with excellent career opportunities at respected employers. Visit our job board to learn more about our current jobs in Southern California and submit your resume to get started.
Image courtesy of FreeDigitalPhotos.net/ambro