Oh no, not another meeting! At some companies, meetings have become synonymous with wasted time. When a meeting is announced, employees immediately begin to think of ways to get out of it. It doesn't have to be this way. If done properly, meetings can help you employees perform their jobs better. Here are some tips on conducting effective meetings.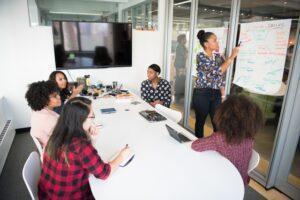 Decide if it's even necessary.
This is the first question you need to ask. It may have been scheduled a long time ago, with no clear agenda, with too many people. It may no longer be needed. Often, what needs to be communicated can be accomplished through email and doesn't even require face-to-face interaction.
You need to be clear exactly what the purpose of the meeting is and what you want to accomplish by having it. You need to have an agenda that is clear and detailed. It should be circulated before the meeting. Some business experts estimate that half of the agendas for meetings are simply recycled.
Keep it short.
Studies have shown that after 30 minutes, people begin to tune things out at a meeting, so it is important to not waste time at a meeting with extraneous items. If you absolutely need to go longer than 30 minutes, schedule breaks. Also, agenda items at the top of the list generally get more attention than those further down, so plan accordingly.
You also need to stick to the agenda. If someone brings up an issue not on the agenda, make a note of it for discussion at a later date, either at another meeting or among those involved.
Target goals, ideas and solutions.
In other words, you should focus on results, the ends and not the means. It is generally just a waste of time to listen to people's stories of how they got to a particular goal or made a particular achievement, unless that is the explicit purpose of the meeting. Don't lose sight of the forest for the trees.
Don't dwell on disagreements.
If there are conflicting viewpoints on an issue or course of action, and they cannot be easily resolved, don't waste time trying to hash through things at the meeting. Save it for another time when those involved can discuss it on their own.
Stick to the particular and the concrete.
Avoid straying into abstract, conceptual language when discussing problems. Focus on real examples that people are confronting people in their work. Dealing with specific, concrete instances where problems are occurring will help people to more easily grasp what is going on and more directly engage with it to come up with a solution.
When talking about situations or dilemmas, avoid getting caught up in emotions and focus on the data, the actual evidence of what is going on.
Draw up precise deadlines.
Meetings should revolve around results and outcomes, goals to be reached. Without deadlines, there is no accountability for achieving those goals, and no way to begin to assess your efforts.
Sum things up briefly.
At the end of the meeting, everyone should clearly understand what was accomplished, the important points that were considered and what comes next.
Follow up with an email.
At the end of the meeting, someone should be chosen at random to put together a short email to record the decisions made, the main ideas that were covered and the action plan that was decided upon, and send it out to all the participants and any others who need the information.
If you and your team members decide after a meeting that you need more workers for a crunch project, reach out to Helpmates. Contact the branch nearest you and talk to us about your staffing needs.