Summer is an exciting time for many of us – nice weather, vacations, family gatherings, outdoor activities and more. But while the season brings with it many fun activities, those activities could be considered distractions when it comes to your job search.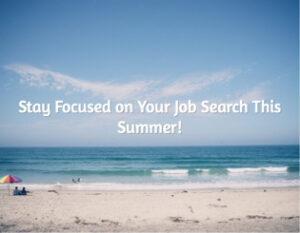 Finding a job during the summer requires focus
If you're looking for a job, it can be easy to get distracted by summer activities and lose sight of your end goal. But while hiring generally slows down in the summer, it also ramps up quite a bit in the fall – the effort you put forth now can help set you up for success in the long term. The good news is that you don't have to give up on fun entirely during the summer season – these tips can help you stay focused (while giving you some room for fun, too):
Schedule your day. Even if you can only devote a few hours each day toward your job search this summer, stay committed to those several hours. Schedule out your days and identify key goals and tasks you'll accomplish each day. Something as simple as breaking things down into steps can mean the difference between landing a new job and starting over again in the fall.
Keep networking. With better weather comes better networking event locations – take advantage! Various networking groups will hold outdoor and other events during the summer, offering a fun way to enjoy the summer while moving your job search forward as well.
Stay professional. Summer temperatures are hotter, but resist the urge to wear casual summer clothes to networking or other professional events. Stay professional when you're meeting with potential employers, recruiters or at networking events.
Remember it's summer. Your schedule isn't the only one that's jam-packed this summer – chances are that hiring managers have summer vacations, family gatherings and other events too. Keep this in mind and be patient if you don't hear back from employers in the most time efficient manner. Stay focused, follow up and be patient – it will pay off in the end.
Consider volunteering. Many nonprofit organizations hold fundraisers and other events to take advantage of the good moods and spirit of giving that come along with the great summer weather. Spending a few hours each week helping these organizations is not only a great thing to do for your community, but a great way to expand your network and build your skill set.
Looking for jobs in Southern California this summer? 
Helpmates is hiring! We match professionals like you with great jobs in Southern California. Search our currently available jobs or contact your nearest Helpmates office to get started.