Millennials are a hot topic for employers today – and with good reason: Millennials will make up the largest generation in the US workforce this year. But while the millennial generation may be the largest, it can also be considered one of the most complex. Research shows they are motivated differently than several past generations, and understanding these differences could be key to landing top millennials for your workforce.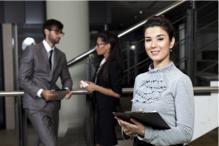 Your organization's success requires attracting talented millennials.
Millennials are driving innovation across multiple industries and are sure to be an essential component of your organization's short- and long-term success. These tips can help you attract talented young professionals who will make an impact on your business:
Show them what you're all about. While salary is the first thing people often think of when considering job opportunities, millennials today are more interested in who you are and what your company is all about. What do you stand for? Define your values and ensure your company actually lives up to them. Then be sure that message is clear in your employment branding tools and materials.
Offer clear career paths. Millennials are eager to jump in and make an immediate impact (23% of them said it matters most to them), but it can be difficult to feel important when you're in an entry-level position. One way around this is to define and communicate clear career paths (and options) for new employees upon hiring (or even during job interviews). A "clear path for advancement" actually ranked as the second most important factor for millennials in one study (at 20%), so building a clear path and communicating how important employees are to the big picture is essential.
Be active on social media. Research shows that the best way to recruit millennials is on social media (42% – which is 50% more than the next highest method!). If your organization isn't posting great content on social media and engaging with its audience, you are missing out on landing potential superstars.
Share feedback regularly. Performance reviews are an annoyance to some organizations, a requirement for others…and sometimes they're used as an excellent retention and productivity tool. Millennials want and expect regular feedback from their managers, so if you don't have a system in place for assessing employees and providing targeted steps for improvement, it's time to get to work!
Searching for talented millennial workers? Helpmates has an extensive network of talent across Southern California. Contact your nearest Helpmates office to learn how we can help your business reach its goals.
Image courtesy of FreeDigitalPhotos.net/alexisdc