You know your employees visit their personal social media channels at work: they use either their company-supplied computer or their own mobile devices.
But from an HR or management standpoint, how much is too much? Should they look at it just on their break time? Only on their own devices?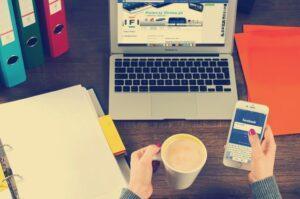 Now that it's 2019 and we're well into the world of social connectivity and media 24/7, chances are great your company and/or department already has guidelines and policies in place regarding social media usage. But there always are loopholes or guidelines/rules that just aren't clear.
In general, if employee productivity isn't being affected, there's probably no need to curtail social media usage, so long as employees are following your company's social media policy. (We're assuming here that you have one.)
We understand that chances are good only one, two or just a few employees appear to be social obsessed, so in those cases it's best to look at usage individually, again with an eye toward how tweeting, scrolling on Instagram and pinning on Pinterest affects – or doesn't – each employee's performance.
Generally, if it appears that social use is affecting someone's work results and productivity, it needs to be addressed,  but not necessarily in "I see you're on social media a lot and it's affecting your work," because chances are another employee is on social media just as much…but is still productive.
If that's the case, the issue is productivity/quality of work for a particular employee and not his or her social media use, per se. Focus on the issue of productivity and ask the employee what he or she can do to be more productive/focus more.
If visitors to your office notice the social use, that's something that you can – and should – address, because if you know they've noticed it, it's because they mentioned it and if they've mentioned it chances are great that they don't like what they are seeing.
Does it appear that the person is on social All. The. Time? And therefore you're wondering how could he possibly be truly focused on work? Any manager/supervisor would wonder. This would be a time to pay more attention to not only the employee's productivity but the quality of work he delivers.
If you do find that most of your team members seem to spend an inordinate amount of time on social media, one suggestion is to hold a meeting and mention that while productivity and work product appears to be fine, it also feels as if too many people are on social media too much.
Let your team members know that you are not judging and ask them to estimate how much time they spend on social in a day and add it up. Let's say the amount is about three hours a day for each person. Subtracting 15 minute breaks in the morning and afternoon, the lunch period and work "lulls" that happen frequently during the day, ask them if "spending 90 minutes a day on social media when we're not at lunch or on break is the best use of our time?"
Then, as a team, come up with solutions to lessening the amount of time spent on social media.
And, by the way, even if your team doesn't feel that 90 minutes on social a day on the clock isn't too much time, it's fine – as the boss – to say it is.
When you need talented workers for a day or a year in Los Angeles and Orange counties, contact Helpmates. We can provide terrific folks for temporary, temp-to-hire and direct hire needs you have. Contact the Helpmates branch nearest you for more information.