Helpmates Staffing – once again! – has been named to the "Best of Staffing" list.  For the 9th straight year! We are way beyond thrilled! And honored!!
Helpmates Staffing  Services has earned Inavero's Best of Staffing® Talent and Client Diamond Awards after winning the best "Best of Staffing" award in each category at least five years in a row.
Only 2 percent of all staffing firms in the U.S. and Canada win the Best of Staffing award and only 33 percent of the Best of Staffing Award winners also earned the diamond distinction this year.
More than 1.2 million people (staffing candidates and clients) across the country provided feedback on many of the nation's staffing firms. Award winners are determined by the percentage of satisfaction scores of 9 or 10 (out of a possible 10) given to them by their placed job candidates and clients.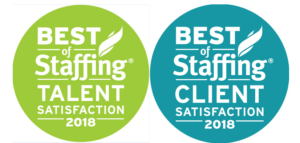 Helpmates won in four areas:
Client Satisfaction Award (9th year in a row)
Talent Satisfaction Award (7th year in a row)
The Best of Staffing Client Diamond Award (4th year in a row)
The Best of Staffing Talent Diamond Award (2nd year in a row)
What's particularly important in this year's awards is the fact that our Net Promoter Score (NPS), a customer metric that measure the loyalty between a provider (Helpmates) and its customers (clients and candidates/talent). Helpmates' 2018 NPS score was 51.3 percent far above the staffing industry average of just 9 percent.
We need to acknowledge the dedication and extremely hard work our internal Helpmates team members performed on our behalf in order to earn us these important awards. We are grateful beyond words that our clients and temporary associates appreciate the work that our recruiters, branch managers and sales professionals do on their behalf.
All of us here at Helpmates intend to continue that hard work throughout the rest of this year and beyond, committing once again to ensuring that Southern California candidates and businesses find terrific work and the top talent possible.
Finally, thank you to our clients and candidates: it's a great honor to work for and with you and we are exceedingly grateful for your belief in us!