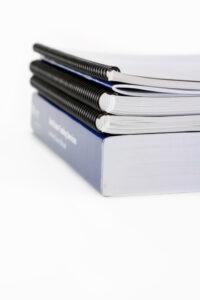 When was the last time you actually read your employee handbook?  Chances are high that it has been too long.  Your handbook is an infinitely useful tool for you and your employees, and can significantly reduce your company's liability if written correctly.  Further, a good employee handbook makes sure that everyone knows their rights, obligations, and important procedures, and will save you time answering frequently asked questions.  If you have a handbook, read this list of key considerations, and if you don't have one yet, read this list and get started right away!
1. Shorter is better.  You want your employees to read it!  And the simple truth is: if it seems like too much work, your employees won't bother.
2. Use clear, concise language.  Include a glossary if necessary.  The language is all you have with which to communicate.  Be as precise as possible.
3.  Don't reinvent the wheel.  You don't need to create this document from scratch.  Many, many employee handbooks have already been written.  Get your hands on a few and compare the content, language, and how they are laid out.  Take the best ideas and repurpose them to suit your organization.
4.  Ensure incident (injury, harassment, discrimination, etc.) reporting information is clear and easy to find.  This section should define your policies and give detailed information on to whom an employee should report a violation, how it should be done, information about timely reporting, and the procedures that will follow all incident reports.
5.  Have a disclaimer.  Your handbook cannot completely cover every possible scenario, condition, or infraction.  Without a disclaimer, your handbook may be misconstrued as a contract and put your company in an unfavorable legal position.
6.  Keep it current.  Laws change, policies change – you must keep your document up to date.  This will ensure your employees have good information and a current understanding of their rights and commitments.  Keeping your handbook up to date is also critical to limiting your liability.
7. Have an attorney review it.  Even if you are a lawyer, it is in your best interest to have an independent attorney read your handbook and make any necessary modifications to the language and content so it will be legally binding under both state and federal laws.
8. Introduce the new handbook professionally and consistently.  By distributing it matter-of-factly, to all employees, you can avoid the nervousness and confusion of employees mistakenly assuming they are receiving new rules as a result of their actions or work results.
9.  Set a good example.  Read your handbook thoroughly, with fresh eyes.  Know its contents.  Refer to it when appropriate, and keep it out and visible in your office.
10.  Ensure the direct managers of all departments are working according to the policies outlined in the handbook.  All managers should be aware of the company policies and should both support and enforce them.  Even a great handbook can't protect your organization from legal liability if the company doesn't actually operate under the policies and standards outlined in the document.
You will never regret the time you spend getting your handbook ready.  All future revisions will be easier because you took the time initially to make sure it was as good as it could be.  And, your company can only benefit from having this document available for all to reference at any time.
Helpmates protects our clients and minimizes liability by ensuring that our staff are up to date on legal matters affecting employment, as evidenced by the fact that 100% of the Helpmates team is certified through the American Staffing Association as Certified Staffing Professionals (CSP).  We are also proud to encourage continuing education in our business community through hosting Human Resources seminars on a quarterly basis.  At Helpmates Seminars, attorneys specializing in employment law share the most important news for employers and managers.  Contact Helpmates today to learn how you can be invited to our next seminar!