How many different job descriptions have you read during your job search? Hundreds? Maybe even thousands? They can seem pretty confusing! Oftentimes, job descriptions are written by a committee, or by someone inexperienced. Others are prepared by recruiters or staffing firms (like Helpmates) with very specific goals in mind.
Decoding job descriptions to land your next job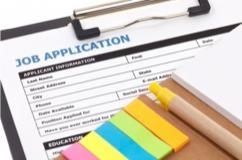 Regardless of the person writing job descriptions, there are some specific clues you can identify to help you understand what an employer is looking for in a suitable candidate. Here are some of the most important:
Look for words that are repeated frequently. While there are often a range of specific skills or experiences an employer is looking for, those words/skills that are repeated frequently are likely some of the most important skills necessary to succeed in the position. If you notice several skills mentioned throughout a job description and they fit your background, it is wise to similarly highlight these areas in your cover letter and resume.
Keep an eye out for culture cues. Job descriptions can provide great insight into the culture of an organization. For example, a "significant growth opportunity" often signifies a desire for employees who can wear multiple hats. This type of organization is typically smaller, perhaps a startup, and can be a very dynamic place to work. "Flexible work hours" can be a sign of organizations that push hard to meet deadlines, even working past the 9 to 5. If you're the type of person who likes to go "all in" on a project, this language may be a cue that the organization is a cultural fit. The tone of voice in job description language can also provide culture cues. A more formally-written description may signify a company that's very professional and structured, while an informal, casual tone may signify a more relaxed, creative culture.
Don't ignore the requirements section. For some reason, this section tends to fall at the end of a job description, but for many employers it is the most critical. While the opening paragraphs of a job description often paint a picture of the role and the company, it's in the requirements section where you can often find some of the real-world specifics and expectations that would come with a specific role. Also, ensuring you meet the requirements is critical toward getting a positive response from your resume. Many employers will toss a resume that doesn't meet the minimum listed requirements. Look carefully at this section for additional insight, and to double check your resume and ensure you're putting your efforts into the right job opening.
Taking a closer look at job descriptions can have a profound effect on your job search. Partnering with a staffing firm can also help you find the right jobs in Southern California. Visit the Helpmates job board to view our current openings, or contact us to take the next step in your career.
Image courtesy of FreeDigitalPhotos.net/phasinphoto