A few months ago, we talked about the importance of confidence in making a positive first impression with employers. But finding and exuding confidence can be a challenge in and of itself.
Showcase your skills and impress hiring managers by being confident.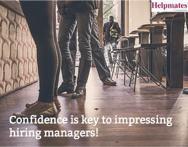 If nerves are getting in the way of properly conveying confidence during your interviews, check out these tips. Doing your homework ahead of time can help quell nerves and help you put your best foot forward!
Show that you've done your research. Today's employers want engaged employees who demonstrate they are invested in the company and its success. We always recommend candidates prepare for interviews by researching the position and company – it's up to you to show that you've prepared! Prepare thoughtful questions that lead with something similar to "While researching your company, I noticed that [blank]" and you'll not only demonstrate that you've done your research, you'll impress interviewers by showing a genuine interest in their companies.
Pay attention to your body language. The old standards really come into play here – if you're constantly looking down or mumbling, you are far from exuding confidence in an interview. Here's a great list of body language mistakes to avoid from Forbes. One of the best ways to avoid body language mistakes and really exude confidence during your job interviews is to practice. Ask a friend or family member to act as the interviewer, and run through practice interview questions, working to avoid body language mistakes while providing thoughtful, positive responses.
Repeat back names as you meet new people. People like to hear their names – it makes them feel more positively toward you, and it can also make it feel like you "fit right in" despite meeting the employer for the first time. Plus, repeating back names can send a subliminal message that you intend to meet and speak with that person again. Listen carefully when introduced to any person at a prospective employer, then repeat that name back during introductions. Body language also plays a factor here – look someone in the eye, extend a firm handshake, and add a genuine, "Nice to meet you, [NAME]."
Practice what you want to say. There's no way to know exactly what an interviewer will ask you during a job interview, but you can certainly have an idea of key points you'd like to make during job interviews. Prepare those responses and practice them ahead of time to sound cool and confident. The more you've said certain responses out loud, the more natural they'll feel once you're in an actual interview.
Be positive. Whether you're talking about your skill set or your previous employers, always focus on positives in job interviews. No one likes to be surrounded by negative people – and although you may not mean to, talking about past challenges or mistakes can make you seem like you're dwelling on the negative. That's where practicing your responses comes into play – you can always take a positive spin! Work through any potentially negative areas and spin them to focus on the positive.
Doing your homework and being prepared for an interview is the easiest way to be relaxed and confident. Here at Helpmates, we help all our candidates prepare for interviews with Southern California's top employers. We'll help you find the right job to reach your goals, then we'll help ensure you put your best foot forward with hiring managers. Search our available SoCal jobs to take the first step.