Our first thought when hearing this question is "Heck, no!' But then we realized: the workplace is much more casual today than even five years ago. Many people wear t-shirts on the job, so it's an understandable question: why couldn't you wear one on a job interview?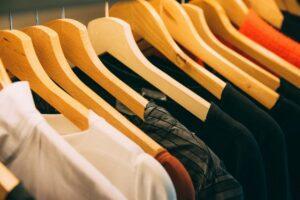 Well, today, you probably could, if you're a woman and the shirt is made of a dressier weight fabric such as silk or a fine knit and you wear a work-appropriate jacket or blazer over it. Or if you're applying for a job in a warehouse/distribution center. And then the t-shirt must be very clean and free of graphics.
We provide those ifs and caveats and suggested jackets to wear because it is important to dress well for a job interview. Why? Because dressing (more) professionally (than you normally do) shows that you take the entire process seriously. Work is a serious business: an employer is going to hire you to solve his company's problems and he wants to know if you take that task seriously. Dressing professionally signals that you understand this.
That doesn't mean you need to wear a suit and tie (if male) or a skirt suit (if a woman). It does mean you should dress well for an interview and that definition will vary depending on the company's day-to-day dress code as well as the role for which you're applying.
If you don't know what the company's dress code, it's perfectly OK to ask the recruiter or hiring manager.  (You can do so when asked to come in for an interview: ask if the company's dress code is professional, business casual or casual.)
Below are different interview outfits to wear for your interview depending on the dress code.
Men
Professional: A suit and tie. If you don't have a suit, a pair of nice slacks and a blazer (such as khaki slacks and a navy blue blazer). Shirt should be collared and long sleeved. Shoes should be dress shoes.
Business casual: You don't need to wear a suit, but you should wear nice slacks, a collared long-sleeve shirt and a blazer. Take a tie along and if you see men wearing ties, duck into the men's room before your interview and put it on. Save the polo-like shirt for when you start working there. Shoes don't need to be dress shoes, but they shouldn't be sneakers and they should be clean and/or polished.
Casual: If you're going to be working in an office, you really can't go wrong with a blazer. You can wear a nice polo under the blazer with nice chinos/khakis. You can wear a short sleeve shirt, but long-sleeved is better. You can ditch the tie. No sneakers.
If you're interviewing for a warehouse/distribution/labor position, chinos/khakis and a polo or collared short-sleeve shirt are appropriate. Work boots, so long as they are clean, are fine. Jeans, so long as they are absolutely clean and not faded, ripped, or excessively baggy/loose also are fine.
Women
Professional: a skirt- or pant suit is appropriate. No prints.  Darker colors (navy, black, grey) are best. Blouse should be solid or have small stripes. No florals. Jewelry should be kept to a minimum. Stud earrings are best; if you wear dangling earrings, they should be short. One bracelet at the most (if you wear a watch, skip the bracelet). Necklace should be single strand and not too long.
Pantyhose no longer are required but polished heels (no more than three inches high) or professional-style flats are fine. Keep perfume to a minimum (none is best).
Business casual: A more casual-style skirt- or pant suit is fine, as are slacks and a short-sleeved blouse, knit sweater (this is where you can wear that refined t-shirt) under a blazer or jacket. A simple dress also is appropriate and it's a good idea to wear a jacket or cardigan sweater over it (jacket/blazer is best). The dress should be a solid print; slender stripes are OK but stay away from bold prints/florals. The dress should not be one you would wear to a party or for a night on the town. Keep the stilettos at home. No jeans.
No sneakers with the slacks. Keep jewelry and perfume to a minimum (none still is best).
Casual: khakis/chinos and a short-sleeved blouse/nice sweater/knit t-shirt is OK. If wearing a sleeveless sweater, wear a cardigan over it. A skirt and blouse is fine but it shouldn't be a denim skirt/going out skirt and shouldn't be too short.
If you'll be working in a warehouse, etc. jeans are appropriate, so long as they are exceptionally clean, not faded, ripped or torn and not excessively baggy or tight. A polo-like is best; if wearing a t-shirt, stay away from graphic tees. It should be clean and not ripped. Clean work boots or clean sneakers are fine.
Are you looking for work in the Orange County/Los Angeles region? Helpmates needs you! We have many temporary, temp-to-hire and direct-hire job opportunities waiting to be filled! Take a look at them and if you find a few that appeal to you, contact us or follow instructions on the job description.