Do you think freelancers/independent contractors are good just for "quick fix" projects? You may want to think again because these types of professionals can be a great way to take advantage of their skills without committing to them full time. What's more, it's not true that any freelancer worth his or her hourly fee wouldn't consider a longer-term freelance position: freelancing can be up and down income-wise and having a long-term project with a steady paycheck can be very attractive.
In addition, as the independent contractor works with you, you no doubt trained him in your processes and procedures. Why lose all that "cultural knowledge" after just a few weeks when chances are good that his skills could be used elsewhere, on another project and/or in another department?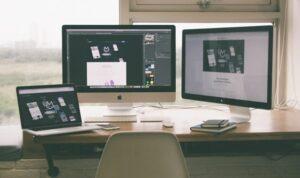 That's just one myth. Take a look below for three additional freelancer/independent contractor myths and then watch how we bust each of them, below.
Independent contractors aren't for the important stuff. They're there to take some of the strain off regular employees so that regular staff can do the "mission critical" work.
Hello!  Independent contractors may have high-level skills that are better than your current employees! After all, they have to stay on top of new technologies and strategies – their very livelihood depends on it!
Independent contractors are lazy: they freelance so they can take afternoons off and go to the beach.
You know it and we know it: working as an hourly or salaried employee means you often don't work hard. You get paid when you're sick, when you take a vacation, when you decide you're "just not feeling it" today, so you don't give it your all on the task at hand and you know you still will be paid the same.
An independent contractor? If he doesn't produce what his client wants, he doesn't get paid. He isn't paid to attend meetings (unless he builds that time into his hourly rate). He doesn't take vacations (unless he works double time for more than a week before in order to get all of his deliverables….delivered).
What's more, chances are great that a freelancer can do more in an hour than a regular employee can. Because he often has to.
So this idea that you bring in an independent-contractor for busy work? Chances are great that your employees already are overwhelmed and can't handle their usual workload. A freelancer – after just a few days in training in "how you do things here" – has a very good chance of becoming instrumental in completing an important project or meeting a critical deadline.
Freelancers will charge far too much for a project.
Yes, they will charge an hourly rate higher than what you pay your employees who perform the same tasks. That's because the independent contractor probably doesn't work a total of eight hours a day on billable work: there's self-marketing to do, administrative work, invoicing, etc. It's all work, but it's not something for which he can invoice you. He only charges for the time it takes him to actually work on your project, not for his business' administrative tasks.
What's more, he's responsible for his healthcare, the full amount of Social Security taxes, purchasing equipment, and other office necessities, etc. You, happily, are not.
Still…..
As terrific as independent contractors are, they do come with special rules of engagement: you can't force them to work on your project where you want (in your office) and when you want (between 2-5 p.m., for example). Do so and you're headed down the sticky-wicket trail toward a lawsuit from the independent contractor claiming you controlled him as an employee but you didn't treat him like an employee (hello, benefits and PTO!)
So if you've thought of bringing in an independent contractor or two and are worried about what you can and can't do with a freelancer, consider the alternative, a temporary specialist from Helpmates with the same skills.
Contact the office nearest you and tell us the skills and background you need for your project. We look forward to hearing from you!