Education equals career success. That's what we've been taught for years, right? But what kind of education makes the biggest impact? And does it really make an impact at all?
Employers love education.
Without a doubt, education is something that employers look for on a resume. Generally, degrees and education can help you earn a higher salary. Education also demonstrates a commitment to growth and learning that impresses hiring managers. With a variety of online and in-person education opportunities available today, the time has never been better to invest in continued education.
But, continued education can make a bigger impact on certain careers and industries than others.  Here's a breakdown of some important areas for professional education, and how they can impact your career: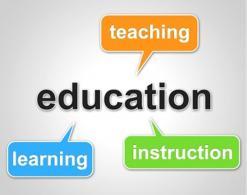 Customer service professionals. You'd be hard-pressed to find an employer that isn't impressed by any continued education, certificates or degrees in the areas of leadership and management. As an employee, investing in courses or degree programs that focus on management and leadership demonstrates to employers that you plan on moving up in the company and taking on more responsibility. It also can demonstrate some stability, and give the impression that you're looking for a long-term career partner, and not just a stop along the way. In the literal sense, you'll gain critical information in these types of programs that can help you not only ascend the corporate ladder, but truly succeed and thrive as a leader within your organization.
Administrative professionals. While there are technical and soft skills that are essential for any administrative professional to succeed, advanced certification opportunities can also help you stand out from the competition and demonstrate competency in your area of expertise. IAAP (International Association of Administrative Professionals) offers a certification program that encompasses all areas of an office environment. An advanced certification in organizational management takes that certification a step further as well. Providing a range of education and study materials and culminating in an exam, completing these certifications is an investment in your career that demonstrates a genuine commitment to your profession.
Accounting/finance professionals. Few industries are evolving and changing as often as accounting and finance. Quality continued education opportunities adhere to strict standards while providing insights and information into evolving tax law, business ethics, specialized knowledge, personal development and more. From seminars and webinars to online and in-person courses, a range of organizations offer certifications and continued education opportunities for accounting/finance professionals. Especially in this industry, it's important to research the credentials and background of your education provider for accounting/finance education. Credentialed individuals and organizations with the right experience and qualifications are essential to provide you with relevant, correct information and a quality learning experience.
Changing Careers. When you're looking for a new career, education and certifications can provide the qualifications and knowledge you need to make a successful transition. Employers who see education and certifications for a career shift are also more likely to feel that you are serious about your new career path, and have wholly committed to being successful. Finally education and certification programs often provide opportunities for internships and volunteer opportunities that can give you hands on experience in your new career field, adding even more benefit and value to prospective employers.
Making an investment in your education can absolutely make a big impact on your career. The right career partner is also critical. Helpmates is hiring for a range of positions with top employers across Southern California. Search our open jobs now or contact your local Helpmates office to get started.
Image courtesy of FreeDigitalPhotos.net/Stuart Miles