When you have notions of the ideal candidate for a job, it can be hard to sway your thoughts from finding the "perfect" person. Hiring managers can sometimes get stuck in a "I'll know him/her when I see him/her" mentality during the recruiting process. Or worse, some recruiters focus on one specific skill set or qualification, eliminating potential superstars until someone with a precise background comes along. A lack of clearly defined needs can add costly time to the hiring process and can ultimately cost you access to top talent.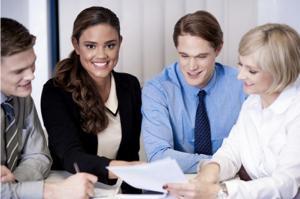 Recruiting for a team fit can boost your organization
Taking a "big picture" approach toward recruiting for your business can help you identify and attract top talent. Research shows that terminating an employee due to poor culture fit can cost up to 2.5 times that person's base salary. That's an added expense most organizations cannot afford. Add in productivity and morale losses due to increased turnover and the cost of aiming for the "perfect" candidate instead of one who fits into your team adds up quickly.
How to focus your hiring process on team fit
Shifting your mindset and approach during the hiring process to recruit for team fit doesn't have to be a massive overhaul. Asking these 7 questions during your next interview can help >>
What's your perfect take on work/life balance? If your team thrives while burning the midnight oil to finish the big project, someone who enjoys leaving work at the same time every day might not be a fit.
What does your ideal workplace look and feel like? Directly asking about the type of workplace preferred by candidates can present insight into whether they will be a good fit (and can help you determine whether some internal changes should be considered).
What has been the greatest work day of your life? Why? If there isn't a match between someone's best work day ever and what your organization aims to deliver for its employees, there might not be a fit.
When have you been in a position and didn't know what to do? Learning new things happens in most jobs. Some organizations encourage a more open, "learn as you go" system than others. Asking an open ended question here gains extra insight into whether candidates could struggle without specific direction at every turn.
What does "teamwork" mean to you? From weekly meetings to daily rundowns and multiple, coordinated projects, the definition of "teamwork" can shift widely from organization to organization. Aiming for nuts and bolts-type responses here instead of theory can really help you zero in on a candidate's potential fit.
When have you been forced to adapt to change in the workplace? What happened? Some candidates prefer to have extreme consistency from day to day. If your business is gearing up for a big acquisition, is experiencing immense growth or is going through any significant organizational changes, the answer to this question could serve as a red flag.
When has an employer NOT been a great fit for you? Why not? By their nature, candidates don't prefer to speak negatively during an interview. But constructive input and thorough responses to this question can provide an excellent standard to use for comparison.
Recruiting for a strong team fit can sometimes feel like searching for a needle in a haystack, but it doesn't have to be that way. Here at Helpmates, we have an extensive network of top talent across Southern California. We'll help you find exactly the talent you need to get to the next level. Contact your nearest Helpmates office to learn more.
Image courtesy of stockimages at FreeDigitalPhotos.net.