We all believe hard work is necessary for success in life and in our careers. But even hard work can be harmful if we take it too far, because then it slips into something that can take over our life – workaholism. It is similar to an addiction, where we feel the need to work excessively and compulsively. We feel uncomfortable when not working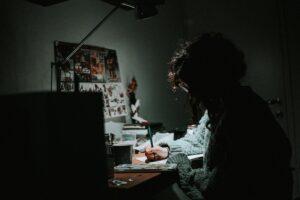 And today, when technology has become ubiquitous and the boundaries between work and personal life begin to dissolve, it is easier than ever to fall into the trap of workaholism. People are tethered to their jobs by their smartphones, text messages and email. Here in the United States, more than half of those surveyed said they check email after 11 p.m. And more than 56 percent check it 5.6 hours every day, Monday-Friday.
Although workaholism is gaining more attention, there is still little data on how many people fall into the category of workaholic. Some estimates in the U.S. put the number as high as one-fourth of all workers. In Norway, where studies have been made, the number of workaholics appears to be a little under 10 percent of the workforce.
The Workaholism Scale
Researchers at the University of Bergen in Norway have developed a list of seven basic criteria for workaholism. If you answer "often" or "always" on four or more of the criteria, the chances are good that you are a workaholic. Here is the list:
You are always looking for ways to free up more time for work.
You usually spend more time working than you originally planned.
You work to escape feelings of anxiety, guilt or depression.
Your friends, family and/or colleagues have told you that you should cut back on the amount of time you spend working, but you generally ignore them.
You get stressed out when you cannot work.
Work is always your number one priority, crowding out other important activities in your life, such as hobbies, leisure activities, and exercise.
You work so much that it has affected your health.
People may believe that workaholism is a way of being more productive, getting more done, getting ahead of the curve and so reducing stress. But the exact opposite is true. Working all the time, without taking time to recover and reenergize, leads to burnout, lower productivity, higher stress, and more health problems.
Fighting Workaholism
If you think you may be a workaholic, what can you do to get your life back on a more even keel? Here are a few suggestions:
Try to reduce the distractions when you work, so you get more done in less time. If you can, try working from home to reduce distractions. Or put on headphones or close your office door, if possible.
Delegate more work to others.
Put more emphasis on a healthy work-life balance. You can do this by trying to reduce your work time to a 40-hour work week. Try meditating. Take the time to exercise and socialize more. Set priorities – get the important stuff done first. Schedule a time period for your tasks and stick to it. Learn how to say no to people when they ask for help if you already have too much on your plate.
Turn off the electronics when you leave work. Don't check your email or send email.
Develop a morning routine. This sets the tone for the entire day.
We're always looking for hard workers (but not workaholics)! If you're looking for a new job or just for work for a few days or weeks, contact the Helpmates branch nearest you. And make sure to check out our latest temporary, temp-to-hire and direct-hire job openings.