When the pandemic hit, and lockdowns proliferated, companies began furloughs and layoffs. You lost your job. Since then you have been operating in job search mode, trying to find a position that will move you along in your career, work that fits the skills and talents you have acquired in your profession and that you find interesting and challenging.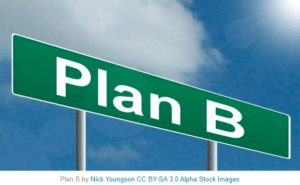 But it's been several months with only a few nibbles. Will the situation improve? Who can say? As of early August there were more than 31 million people without a job. The future remains uncertain. It may be time to move from Plan A to Plan B in your job search.
Plan B is expanding the job search beyond those jobs and companies that you really want to a different type of position or even industry to give yourself more opportunity. Here is how to develop your Plan B.
Define your optimal job
Your first task is to make a list of the characteristics that define your dream job. This will help to guide you as you expand your search.
Think about what the perfect job would be like for you – what would it pay, what kind of work-life balance would it offer, how stressful would it be, what would the company culture be like, what kind of flexibility would it offer?
Then think about your skills. List what hard skills you have, the kinds of abilities that are measurable, as well as the soft skills, things like communication skills, empathy, ability to work with others, problem solving.
Look at Plan B jobs with an eye for how they can help you eventually land a job that you really want. Look for connections between the two in terms of the types of skills they use. For example, if your ideal job is in advertising, you could also look for positions in related fields such as public relations or marketing, jobs that will enable you to gain skills that will help you to land a job in advertising.
You also should keep going after the Plan A jobs. Look at the job descriptions for different types of Plan A jobs to learn the kinds of skills these jobs require, so you can pick up these skills with Plan B jobs.
Also, see what type of training you can undergo to help gain the skills you need.
Network
The importance of networking is common knowledge. It should be an integral part of your job search. Try to expand your network of contacts during your job search. The new people you reach out to may be able to give you insights into different industries, jobs you had not considered before, or companies you did not know about.
Talk to them about both your Plan A and Plan B goals. Ask for recommendations and advice or possible contacts at companies. Then work to expand your network by reaching out to these people online. When you talk to someone, always ask the person if there is anyone else you can talk to for information.
Informational interviews
Informational interviews, as the name implies, are just for the purpose of gathering information. They are not job interviews. When you reach out to new contacts, ask them if they have a little time for an informational interview call or video talk. They may be able to give you worthwhile knowledge about companies and jobs.
Before you talk to a person, however, you should do some preparation. Learn as much as you can in advance about the person and their company, so you can ask intelligent questions. Draw up a list of questions beforehand as well to ensure you cover the topics you want.
Consider temporary assignments
If you've yet to receive a job offer for the type of position you want in the industry you want and you're getting worried about finances, consider working with a temporary staffing company such as Helpmates. Temporary work can help you keep some income coming in while you continue hustling for your Plan A position.
In fact, you may find that a temporary position with us becomes your Plan B: many temporary positions often do become regular, full-time opportunities.
Take a look at our current openings and application instructions. You also can register with the branch office nearest you.