The job market is heating up and employers are looking for more talent – especially for temp jobs. As businesses look for ways to scale up their workforce to meet increasing demands, more temp jobs are becoming available across a range of industries and disciplines.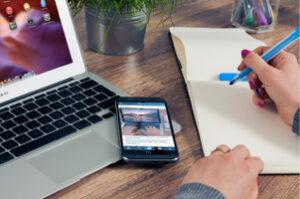 Temp jobs can provide a boost to your career.
Temporary employment has helped employers and professionals for decades, but understanding how temp positions have evolved, and the benefits they offer today's professionals, can help you map out your career strategy. Here are four ways temp positions offer tremendous opportunities:
Temp can often lead to permanent. If you're at a crossroads in your career and are looking for stability, temp jobs can offer surprising stability. As mentioned above, partnering with a staffing firm like Helpmates helps you become part of our team – many specialists are entitled to similar benefits you'd receive in a full-time job. So if you decide you like the flexibility of temporary work, Helpmates can often provide the stability of a full-time job with the flexibility of temp jobs. But if your long-term goal is permanent employment with one employer, temp jobs can be the perfect gateway. Often, employers take advantage of "temp-to-hire" opportunities with firms like Helpmates. That means they hire an employee for a temp job with the option to hire that person as a full time employee at the completion of the contract. This allows the employer to see if potential employees would be a good fit before making a permanent decision, but it also allows YOU the opportunity to determine if there's a fit. Do your best work in this type of temp job, and if there's a mutual fit between you and the employer, it could lead to full-time employment (without the risk and uncertainty typically found when starting a new full-time job).
Boredom is typically avoided. If you're the type of person who likes a fresh challenge and gets bored in the same position for too long, temporary positions (particularly through a staffing partner like Helpmates) offer you the flexibility you crave with the stability of having a career partner on your side. While some temporary positions are six months or longer, some are considerably shorter. Depending on what you're looking for, your recruiter can help find the best opportunities for your needs, goals and desires.
Testing the waters becomes much easier. Thinking about a career shift? Gaining the necessary experience can be difficult. And do you really know that your new career is the one for you? Temp jobs offer tremendous opportunity to "try out" a new industry, position or employer, so that you can take the time to really know if a full career change is right for you. If you decide that you're ready to make the jump into a new career, you'll have a solid foundation of experience to get you started.
Yes, benefits are often available. There is a popular misconception among some professionals that temp workers don't receive benefits. Here at Helpmates (and at many other firms as well), we offer a robust set of benefits for qualified specialists. These include many of the benefits you would expect and receive from a full-time job, like 401k, insurance, holiday pay and more (

Contact your local Helpmates team

for more details!). Also, pay is often extremely competitive for temp jobs compared to full-time employees — sometimes it's even higher.
Looking for temp jobs? Helpmates is hiring! We work with top employers in a range of industries across Southern California. Search our jobs now or call your local Helpmates office to take the next step in your career.