This is the fifth consecutive year that Helpmates Companies has won the Best of Staffing award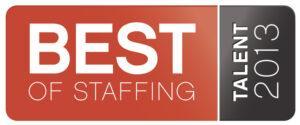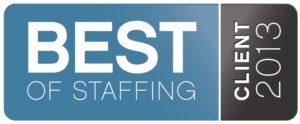 Helpmates is proud to announce that it has once again been named to Inavero's 2013 Best of Staffing lists of award winners. The annual lists honor those staffing agencies that deliver exceptional service to their clients and to the talent, which includes the permanent and temporary employees for whom they find jobs.
Inavero's lists are especially noteworthy, as they are the only statistically valid and objective service quality benchmarks in the staffing industry—with more than 500,000 staffing agency clients and talent participating in its satisfaction surveys. It is the hope of Inavero founder and CEO, Eric Gregg, that "both companies and talent use the Best of Staffing lists as a benchmark to help select a staffing agency that can either secure the talent or employment opportunity they need."
As one of the 2013 Best of Staffing winners, Helpmates has earned satisfaction scores of more than triple the industry average. Additionally, the service excellence award is obtained by less than one percent of all staffing agencies in North America.
Helpmates is honored to have received the Best of Staffing award for the fifth consecutive year. We'd like to take this opportunity to thank both our clients and our talent for their participation in the process, as we highly value their feedback and use it to support continual improvement at Helpmates.
About Helpmates
For more than 40 years, the Certified Staffing Professionals at the Helpmates Companies have been implementing strategic solutions for all our clients' recruitment, employment, and human resource needs. We operate with a focus on long-term relationships, customer satisfaction, and client retention.