Have you ever discussed your career hopes with your manager? No? You're not alone: too many employees, unfortunately, are not having these kinds of conversations with their supervisors. Many supervisors do not talk about career development with their employees during the performance review process.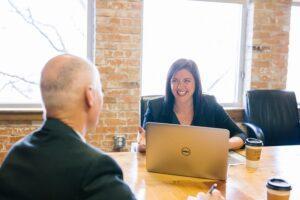 So, if you want to move ahead in your career, you need to take the bull by the horns and start the process yourself – and you don't have to wait for your performance review to do it.
Preparation
The first step in this process is preparation. You need to have some idea about where you want to go before talking with your supervisor.
Begin by considering a few career issues. First, think about where you want to go with your career. As part of this, think about your values and whether they match up with your career goals. Review your strengths and weaknesses – how can you put your strengths to use in advancing your career, and what skills do you need to work on to move ahead?
What are your short-term and long-term career goals? For example, short-term – within the next year or so – do you want to move to another type of job or take on more responsibilities in your current position?
Longer term goals may be a bit more difficult to specify simply because of the time frame involved. But in general, you should be able to talk about what you want to accomplish in your career.
After you have contemplated all of these issues, develop a plan of action for achieving your goals.
Meeting with Your Supervisor
The first thing to do when you meet is to get some sense of how committed your supervisor is to helping you. You can begin by telling her that you want to talk about the next steps in your career, that you would like to advance within the company but are not sure how to make that happen.
Run through your achievements at the company during your time there and emphasize how much you have enjoyed working there. Then, observe the kind of feedback you get to gauge how supportive your supervisor is.
Talk to her about your goals for the coming years, giving her a general idea of where you would like to go professionally. For example, do you want to get involved with managing people or work more with clients? Also, discuss the skills you would like to acquire, as well as the knowledge you want to gain, and make sure to do so  within the context of how this can benefit the company.
If you are interested in a promotion, you have to let your supervisor know. You could ask her for ideas on what your next step should be. If the response is unbridled enthusiasm, you are off to a promising start.
On the other hand, you may simply get a blank stare, with little in the way of support or ideas. In this case, you will have to forge your own path if you want to stay at the company. Start by looking at other departments that can use your particular talents and where you can expand your knowledge and experience.
Check with colleagues at the company about possible opportunities, such as assignments or projects that you could get involved in.
Talk to your supervisor about what you would like to do and ask her to give his support to your efforts. If your performance has been noteworthy, she should be willing to do that. Review what your investigation has turned up and, working together, decide on a few possibilities that would be a good next step for your career and the best course of action to take. Ask your supervisor to take the appropriate actions to help you get started.
If you're not sure where you want to go with your career, consider exploring a bit by working as a temporary associate with Helpmates. We have many terrific opportunities that can allow you to try out different industries and companies. What's more, many of our assignments can turn into an offer of employment with our client (so long as both you think it's a good idea).
Contact the Helpmates branch nearest you for more information.