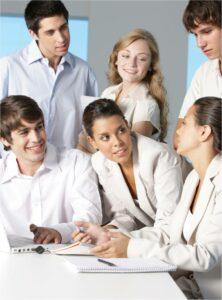 With unemployment figures still hovering around 10% in Southern California, the landscape of job applicants is not what it once was. For every job opening you post now, not only do you get an overwhelming number of  applicants, you're likely to get applicants who would have in the past been considered overqualified for the job.
Here are a few important points to consider as you evaluate candidates with extensive professional experience:
You could be getting a built-in trainer and mentor.  With their enhanced skill set and experience level, this person could be more than what you are looking for.  He will likely welcome the opportunity to share his
knowledge with your team, because it keeps him relevant and engaged, even though he is "underemployed" in this current position.
You will get higher-level work with a lower level of supervision.  This individual is accustomed to doing much more with much less guidance.  So, your company will reap the benefits of higher output volume and
 quality.  And because he requires less time from management to keep him on track, this type of employee provides greater value at less cost to the organization.
Make sure he knows the parameters.  It is very important that you are honest from the start with him regarding the scope of his responsibilities, his rate of pay, and the opportunities for growth.  If he seems hesitant about any of these limits, be cautious about your decision to hire him.  Ill-matched expectations and/or settling for something less than what a person is really willing to accept are early indicators of trouble and will almost always lead to a negative situation for both the employer and the employee.  If, on the other hand, he is enthusiastic about the opportunity as presented, and willing to take on a new role in this hiring climate, you could be set up for a successful working relationship.
Discuss his desire to stay long term.  Again, an honest discussion can save you both time and frustration.  If he really sees himself staying only until he finds a better situation, it may not be worth the costs associated with bringing him on.  If you sense that he could be a valuable addition to your organization but that he might not be in it for the long haul, consider having an open discussion about a relationship with him as a temporary contractor. In many cases, agreeing to a contract position can prove mutually beneficial, serving both your organization's needs for high quality, affordable expertise, and the employee's needs for the flexibility of a shorter commitment as the job market evolves.
Remember too, as with any employee, that it will be important to recognize this person for the contributions made to your organization.  If you find that an employee is providing more value than you expected or than was called for in the job description, give recognition to that individual and thank him for what he brings to the table.  Appreciation goes a long way in employee satisfaction.
Some up-front research is all it will take for you to assess whether hiring a particular "overqualified" candidate will be a great value and opportunity for you, or if the risks outweigh the benefits. With consistent success for more than 40 years, Helpmates has maintained long term partnerships with some of the most respected companies in Southern California and beyond, supporting their success in a multitude of employment climates.  Helpmates' team of Certified Staffing ProfessionalsTM is ready to help you create a staffing strategy that works for you.  Contact us today to get started.