Congratulations on your promotion to manager! Now you're the supervisor….of your past colleagues!
Moving from co-worker to boss can be, well, fraught. No longer can you be true buddies. No longer can you dish on the boss together because, well, you're the boss! Now you have to discipline former peers when they don't perform as expected or needed. What's more, you're now going to have to deal with other managers as a peer and you want to make sure they look at you as an equal, not as a subordinate.
Take a look below for tips on how to make a smooth and successful transition to management.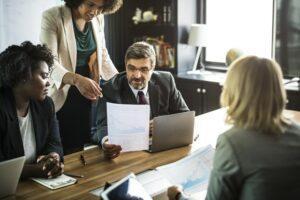 Dealing with Former Co-workers as a Supervisor
Face it: your relationships will change and it's best to deal with it ASAP.
In fact, if at all possible, meet with your colleagues as soon as you've heard of the promotion.
Ask them all to lunch, for example, let them know of your new role, how excited you about the added responsibilities and how you realize things may be a bit awkward for the first few weeks or so.
Once the promotion takes place, meet with the team again and let them know your vision moving forward.  Ask them for ideas for improvement and let them know things will take time to improve, but that you're committed to taking  the department  to new heights.
The most important thing you can do is establish your authority. For example, if during your first meeting with your new team, the "how can we improve things" discussion devolves into a whine-fest.  If so, speak up quickly and ask team members to bring up problems that have a solution and remind them to offer potential solutions as they do so.
In addition, never give special privileges or breaks to former colleagues.  Doing so only helps you stay their "buddy" in their eyes; you must establish your authority.
Finally, you must understand that you probably aren't going to be asked to go to lunch with the group or meet with them in your favorite after-work hang out. You certainly can ask about family and non-work activities, but you will need to do so as a manager, not as a work buddy.
Becoming an Equal in Other Managers' Eyes
If you treat your former colleagues as a leader — always with great respect – rather than as a colleague, your new manager peers will notice.
And, speaking of what they'll notice, they'll notice if you continue behaviors more typical of a subordinate. In other words, if you were routinely late to meetings and continue this pattern, you won't be taken seriously. If you complain about upper management without offering possible solutions, you won't be taken seriously. In other words, remember you're your fellow managers' peer and act accordingly.
To do so, take a look at a manager you admire. Watch what he/she does and how he/she does it. Aim to do the same in similar circumstances. In fact, it may be wise to ask this seasoned manager to be your mentor.  For example, chances are great you're going to have to discipline a former co-worker at some point and if you've never done so before, you'll want to do so as well—read: managerial – as possible . Going to a mentor and confidentially asking for advice on how best to do so can go a long way to helping you become the well-respected manager you want to be in the eyes of both former colleagues and new peers.
Looking to move up in the world? Is your Brea employer too small able and not able to promote you to the level you deserve? Then contact Helpmates. We have many direct-hire positions (you never work as a temporary associate but are hired directly by our client) with some of Orange and Los Angeles counties' top employers. Contact us today.