We're several weeks into our stay-at-home orders here in the Los Angeles and Orange county regions and many companies are in the thick of managing work-from-home employees. Many of you no doubt have worked the kinks out and things are going smoothly.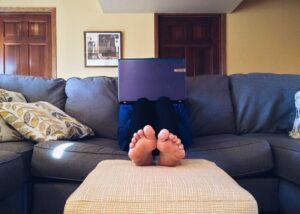 But perhaps not. If you've never managed remote-work employees before, or if your employees have never worked from home before, you still may be finding new issues that create stress for all of you.
How well are you managing….yourself?
Probably the first step in managing remote workers is taking a look at how well you're managing yourself while working at home. After all, you can't expect your subordinates to do as well as you're doing…unless you're doing well yourself.
If you're not getting work done on time, how could you expect your team members to do the same?
Your first step when it comes to managing remote workers, therefore is….become the remote worker you want your team members to become.
Work hard to remain calm
You may be stressed to the max and your subordinates also may be. In fact, now that more people have been laid off from work, now that more of us are becoming sick, the stress may be even more now for employees, even if they've been working at home for a few weeks.
If you're feeling stressed, it's OK to feel it, but your job as manager is to serve your team by being calm. The more you can help them get through this from a place of respect and understanding, the better and the more your subordinates themselves will be able to calm themselves and do their work.
Avoid criticism, if possible, and understand that probably no one will be able to work at the capacity they did before life changed completely. Encourage your team members and praise them for small things, things you (may) not have done so before.
Cut everyone – including yourself – a lot of slack
Chances are everyone is getting a bit stir crazy. Maybe a lot stir crazy. This could be especially so if one or more of your team members is finding their family situation becoming more stressed. (After all, living with young children cooped up in a home for days on end can do that to even the most "chill" of individuals.)
For example, if possible, don't absolutely require that everyone "be at work" right at the usual start time and throughout the day. So long as your team members are getting their work done well and on time, let them know they have the flexibility to do their work when they see fit. (This may not work, of course, if they have customer-centric roles and your clients expect them to be available at certain times.)
Focus on the achievable
Many people in times such as these – constantly stressful and mostly not under our control – can start thinking they can't do anything that will control or change their situation. (And even highly competent individuals can come to think this way.)
But focusing on achievable projects or tasks helps your subordinates have a sense of control and agency. Accomplishing these types of tasks and projects also helps redirect them from distressing thoughts and even moods.
Guide them in focusing on what they can do instead of what they can't. For example, many salespeople may be greatly stressed about not being able to make sales calls in person. Let them know they can make them via video. More importantly, help them come up with achievable goals regarding how many video sales calls they may be able to make now. Chances are great that number will be much less than the number of calls they made in person. So instead of focusing on sales calls, help them focus instead on something they can control, such as how many prospects to whom they reach out to each week.
Cut back on priorities if possible
Aim to have a one-on-one (via video, of course) with each of your subordinates to discuss priorities. It's best if you can reduce that number to just two or three.
Check in with team members regularly
Work with your subordinates to see what this will look like. Perhaps you'll send an email every day to see how things are going while having an all-team video chat two or three times a week.
Don't be afraid to send individual emails every now and then to team members that have nothing to do with tasks or projects. Ask them how someone in their family is doing, for example, and if they've been able to get out for a walk every day.
On a more work-related message, make sure to ask if there's anything more you can do as their manager to help them.
Note: don't be surprised if these daily check ins decline in numbers for each day and even how many you have in a week as your team members get used to their new work situation.
Encourage self-care and even team activities
Let your team members know they really should get outside, if possible, a few times a day. Consider having a weekly video get-together in which everyone can have fun together, perhaps by playing a game (with prizes), "having lunch together" via video, etc.
Keep them in the loop, no matter what
As the Covid-19 crisis continues for the next few weeks, you're company may need to make major changes. Keep your team members aware on how things are going, especially if some big adjustments are coming.