When it comes to our jobs and careers, just about all of us are liars: more than four-fifths of us (85 percent) lie on our resumes. (And that number – from 2017 – is a big increase: just 66 percent of job applicants lied on resumes or applications in 2012.)
Still, just because just about everyone does it doesn't mean you as a recruiter or hiring manager want to hire a liar. So we've put together a quick primer on the ways people fudge/lie/exaggerate on their resumes and how to spot them when they do.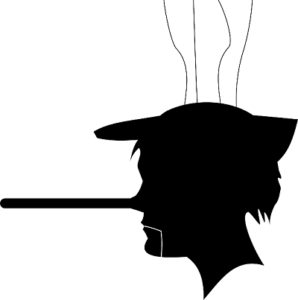 Degrees earned. Most people don't outright lie that they have a certain degree. Instead, they hide it a bit, saying they have "a bachelor's" rather than specifying if it's bachelor of science or a bachelor of arts degree.
We see this a lot: a person who worked at a big-name company on an assignment via a staffing firm will leave out the temp agency's name: "Administrative Assistant, Mazda," for example.
Funny or odd job descriptions. This usually occurs when someone wants to exaggerate his or her work history. Perhaps an office assistant is but one in an office and so she pretty much does manage the office, so she puts as her title "office manager."
Big jumps in job titles in short periods of time. Does someone move from forklift operator to warehouse manager from just one job to the next? As mentioned above, this could be the case that the operator worked in a very small warehouse and sometimes performed "management" duties when his boss asked him to.
Most people are just exaggerating a bit.
Keep in mind that most candidates aren't out to out-and-out lie, but to make themselves look better to potential employers. Call them white lies, a bit of boasting, teeny exaggerations. This can be particularly the case when someone did, indeed, frequently perform higher-level duties and skills in a lower-level position and wants to showcase that he/she does have the experience to move up.
Outright scamming almost always isn't on their agenda. They just want what they perceive to be a leg up to a better opportunity. Naturally, it's entirely up to you to decide how you will "handle" such fabrications/exaggerations when you discover them.
As for the few and far between candidates who are hoping to pull a large fast one on an employer? Here are some ways you can check out inconsistencies in a resume/cover letter – and keep from hiring those who created the documents in question.
Take a look at LinkedIn profiles. Most people know that former and current managers and colleagues can look at their profiles; they therefore tend to keep their work history, skills, educational accomplishments, etc. on the up and up.
Get details during a preliminary phone/screening interview. Make some notes about the things that seem out of kilter to you before chatting. Most of us feel more comfortable boasting or fibbing when not face-to-face or speaking to someone in real life (Hello, social media trolls!). Yet we tend to become pretty darn truthful when asked directly about them when a live person asks them over the phone.
Double check with candidate references and get creative about talking to people not listed on a reference sheet. Most of us are smart and only ask people who are going to give us terrific references to act as such for us. So once you chat with the listed references on a candidate's list, head back to LinkedIn and check for a candidate's former colleagues and managers who weren't asked to be references. Contact them and ask about the discrepancies or "flags" you've noticed on a cover letter/resume, or even during the job interview.
Let Helpmates screen resumes, check references and hold preliminary interviews for you. Whether you're looking to hire someone directly, need someone for a long- or short-term assignment, or you want to try a candidate out in a temp-to-hire arrangement, we can screen, interview and conduct background checks on one or dozens of applicants.
Contact the branch office nearest you to learn more.