Talk about rotten luck! To be a newly minted college graduate in 2020 means you're headed to job market unlike anything you, your parents and possibly even your grandparents have ever seen before. Many people are likening the current job market worldwide to that of the Depression in the 1930s, in which one out of four people in the U.S. were out of work. In fact, Forbes in April reported that already 23 percent of the U.S. workforce was out of work.
We truly are sorry that you're graduating into THIS!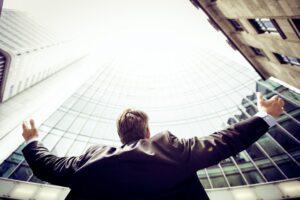 But….something to keep in mind as you move forward: you are one person. You need just one job. Don't focus on what you can't control: how many other people are looking for work, competing with you. Instead, focus on getting you – your singular self – that one job.
Yes, it will be a lot harder this year than it was for your friends who graduated last year. Nothing can be done about that (that's something you can't control).
Remember: focus on what you can control…
…your attitude and your actions.
Looking for work now means it should take up most of your time and efforts. Yes, enjoy summer as much as you can, but you really should take up this old-timey mantra: "looking for work IS my job" until you land one.
That means concentrated effort of at least four or five hours a day.
Most of your job search will take place online
There's no need to worry right now about attending career fairs or networking events in person. Job search sites, asking friends and family for leads and LinkedIn are the three "tools" you'll use predominately in your search as we all deal with the COVID-19 pandemic and it's "stay at home as much as possible" guidelines.
A big caveat: Do NOT simply find jobs on job boards and apply there. That really isn't a job search: it's merely "hitting send."
Instead, by far the best thing you can do right now is start connecting and networking on LinkedIn. There's a ton of great advice about how to do so strategically. Here's a how-to we really like. (Bonus: it's written for college grads.)
You not only can apply to jobs on the platform but you should/must start reaching out and engaging with your contacts there.
The right way to engage on LinkedIn
Take a look at your LinkedIn feed: you'll see that many people link to articles and such. But you'll also see that they comment on the articles. They also comment on their connection's updates.
Most importantly, the most successful LinkedIn users tend to post updates on their own profiles that provide value to others. They offer a well-thought-out opinion about something. They provide advice about their industry. In other words, they give to get.
Don't be shy
You may feel that you have little to offer. You may think you don't have enough experience to provide information that's of any value.
You are wrong.
Everyone has something of value to add. Everyone. Whether it's an inbound marketing tip you learned as a digital marketing major, or your thoughts on an article that predicts when the recession may lift (based on your studies as an economics major), post it.
Regular posting and commenting helps people your connections see your expertise up close. Recruiters also will see your comments and take note.
Speaking of recruiters….
Feel free to follow – and ask for connections with – those who recruit in the industry in which you're job hunting. Reach out and ask for a connection. Ask if you can send them your resume (don't do so until you're an actual connection).
Continue to engage professionally with your connections. Continue to offer value in all interactions, as well as in your updates and comments on other people's updates.
One last LinkedIn tip: just as we advised re job boards, above, don't simply apply to openings you see posted on LinkedIn and call it a job search. Instead, most of your time on the platform should be spent asking for connections, posting your own updates and commenting on the updates of others.
Times are tough out there for many job seekers. Here at Helpmates we'd love to help you find your first post-college job. Check out our current opportunities and apply to those that appeal to you. You also can contact the branch office nearest you to register with us.