Four steps to set you apart: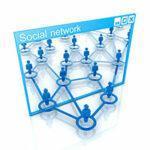 In an era where hiring is becoming more and more web-based, LinkedIn is one of the best tools for getting noticed and pursued. It's a powerful resource, but only when used to the best of its potential. Especially with the new design, there are four key steps to standing out while linking in.
1: Keywords
LinkedIn gives you the opportunity to add a snappy headline just beneath your name, which will entice potential employers to read further and make your profile more memorable. Your headline is searchable, so you can maximize its reach by packing it with keywords that describe both you and your ideal. If you want to be found when someone searches for "online marketer in Fresno," then put those words in your headline.
While this is simple in theory, it can quickly become cumbersome in practice. You don't want to weigh down your headline with keywords just for the sake of search results; though someone might find you, you won't look very attractive. And don't be too wordy in general. Keep it short, snappy, and to the point—the point being your experience, capabilities, and career goals.
2: Summary
When your profile comes up in a search, the next step a potential employer will take is to read your summary. This section of your page is where you have the chance to really engage someone: give serious thought to a concise, engaging chunk of text that highlights your experience and achievements. In a sense, this is your cover letter for any job, and the rest of your profile is your resume.
As with any cover letter or professional "About Me" writing, make sure it stays succinct and on topic. Summarize what you've accomplished, instead of expounding upon it at length—there will be time for that in follow-up conversations and interviews. Your goal here is to hold the employer's interest by portraying yourself as a qualified, capable candidate.
3: Skills
The Skills & Expertise section of a LinkedIn profile, with the new endorsements option, is a huge asset to your professional persona. You can choose from an extensive menu of skills to create a personalized list of where you excel. Feel free to add an abundance, but don't overpromise: you don't want an employer asking detailed questions about a skill you only "sort of have."
With the new LinkedIn design, you have the option to endorse your connections' skill set and receive endorsements from them. The more endorsements a certain skill receives, the higher it moves on your profile—and therefore, the more confident a potential employer will be that you know what you claim to know. It's an effective way to get third-party recommendations, which speak volumes more than what you say about yourself.
4: Expansion
Once you've written an enticing headline and concise summary, and added your skills and expertise, your profile is nearly solid. To flesh it up and make yourself stand out, fill in details beyond the basic information. Anything that makes you unique or gives you an edge over potential competition might be the ticket to your new career, so this is the place to be comprehensive and detailed.
Certifications and courses beyond your academic or professional degrees are quickly becoming a must-have item for new hires, so highlight any additional training you've accomplished. If you speak a foreign language, call attention to that as well, as it's a hot commodity in the global workplace. Honors and awards you've received and big projects you've contributed to all have their place on your profile as well.
A profile that shines:
With your LinkedIn profile newly polished and ready to go, you can be confident in the digital face that you show to potential employers. A winning profile is searchable, succinct, and gets results.
Helpmates has been ranked among the top 1% of staffing companies nationwide by our candidates and employees.  Contact our team of Certified Staffing Professionals today to learn how we can support your job search strategy.