If you don't know where you want to go, going anywhere will do, right?
But do you really want to "go anywhere" when it comes to something as important as your career?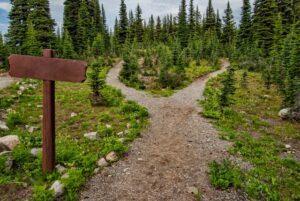 We know of a truly and genuinely nice man, nearing retirement, who has worked in the cut-throat, exceedingly stressful financial services industry most of his working life. He has made an extremely good living for his family and his wife is quite grateful that his career has made it easy for her to be a stay-at-home mom. But he hasn't been exactly…..happy in his career.
How did he get into this miserable-yet-lucrative career? He says he pretty much fell into it. He'd wanted to be a journalist in college but he graduated in the midst of the 1980 recession and journalism jobs were hard to find and didn't pay well, so he took a gig in a bank. And then another position in a financial services firm. Then he got his MBA. Then he got married. Then he started making some serious money. Then they had children and the couple decided she would stay home. More money. More expenses (his children are lucky – and know it – because he and his wife paid for their children's private-college tuition). And so on. And here he is today, literally counting the days until his retirement.
"If only I'd thought beyond taking that second job because it 'paid more,'" he says.
Don't let that happen to you.
No matter where you are in your career – graduating college or high school this spring, a year or two on this side of graduation, five years out, in mid-career, and so on – thinking about where you want to go helps you actually get there.
Yet, unlike the man described above, having a vague "I want to go into this and that" won't get you far. After all, what if it's not easy to find jobs in the field you've chosen (journalism jobs aren't exactly plentiful today, either)? What if you meet up with roadblocks? What if you need to postpone the career for a bit and take another job until you find one you want? What if you find you don't like where you're headed?
What's your Plan B? And Plan C? And so on.
But don't worry, it's not that you need to map it out completely.
After all, most of us have no idea what will make us happy in the future: we have an "idea," but we don't test it out. We think we'll enjoy being an actress but – oops! – we never thought beyond actually being in a play or movie and forgot how awful it is to actually audition again and again and again and hear no so many times our head explodes from the rejection.
So while you don't need a step-by-step plan, be careful. Take time to sit with yourself and be brutally honest. You want to help troubled children, but you also love to travel to Europe. Perhaps working as social worker – with its low salary – isn't for you.
Conversely, let's say you know exactly what type of career you want and you've thought it over carefully, talked to people who work in it, perhaps interned or volunteered within and it feels just right.
Now ask yourself, where do want to be within it in five years? Will you need more education or skills training? Do you want to go into a leadership or management role? How do you know if you'll be a good fit? What will you do to find out?
And so on.
In other words, don't wing it: have a plan, yet keep it flexible. Do so, and you have a greater chance of finding work that suits you as well as a career that unfolds as you want it to.
If you're not quite sure if a field of work is the one for you, experiment with it via temporary assignments with Helpmates. Contact the branch office nearest you and let us know what you're looking for. If we can help you "try a career" or job, we'll be happy to do so.