Maybe your alarm didn't go off that morning and you were running behind. Or maybe you just never quite felt comfortable. There are any number of reasons why your job interview didn't start off on the right foot, but don't give up hope just yet. You can absolutely salvage an interview that appears to have gone off its rails.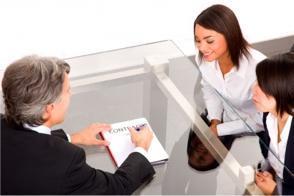 Every job interview can be a successful one.
Although not every job interview will result in a job offer, every interview can be successful in one way or another. Here are some common job interview mistakes, along with tips for turning a bad interview into a successful one:
Problem: You blew your answer to an important question. Solution: Ask for a do-over. Sometimes you can't help it – despite practicing your responses and feeling like a rockstar before your interview, you ended up going off on a tangent and mumbling through a response. It happens – but the best thing you can do is to admit that your response didn't quite come out right and ask if you can answer again. At best, you'll get another opportunity to share a strong answer. At worst, you've demonstrated your poise and confidence to the interviewer.
Problem: You're so nervous you can't think straight. Solution: Talk about your nerves. Sometimes no matter how hard we try, we're just plain nervous during a job interview. If practicing your responses and taking deep breaths hasn't prevented shaky nerves before your interview, the best way to avoid those nerves taking over your interview is to acknowledge them. Sometimes nerves present themselves physically – shaky hands are a common symptom – and it can be more effective to simply tell your interviewer that you're a bit nervous, but only because you're so enthusiastic about the position. But then once you've acknowledged your nerves, don't dwell on them – move on and talk about the great traits and experience you bring to the table!
Problem: The interviewer doesn't seem interested. Solution: Make a stronger connection. Sometimes we can forget about the human element of job interviews, treating them like a business transaction instead of a new personal connection. If you feel like your interviewer is bored with the interview or that he or she just isn't interested in your skills, it's up to you to make a stronger effort to connect. Think about your body language – are you making strong eye contact, leaning in and demonstrating your own engagement? Asking questions can also help bring interviewers "back." Turn the conversation around to engage the interviewer with questions about his or her role with the company, what it's like to work with the employer, and other questions about both the interviewer and the company (remember, of course, to keep the questions professional, but on a personal level).
Problem: You just know that the interview didn't go well. Solution: Talk to your recruiter. Sometimes no matter what steps you take, an interview feels like it just didn't go well. In these situations, a recruiter can be your most valuable tool. Call your recruiter and talk to him or her about what happened. Be honest about where you could have done better or where you felt you didn't make the right impression. Bad interviews happen, and when you are working with a recruiter who has a strong relationship with the employer, you have the added benefit of someone "going to bat" for you.
Preparing ahead of time can help minimize bad job interview experiences, but now you have the necessary steps to turn around a less than stellar interview. Are you looking for jobs in Southern California? Helpmates matches professionals like you with leading employers across the region. Visit our job board to view and apply for jobs today.
Image courtesy of FreeDigitalPhotos.net/Ambro