High schools and colleges soon will be holding Commencement exercise for the Class of 2018 and thousands upon thousands of graduating seniors will be looking for work.
If you will be one of them, here's a question: with so many graduates flooding the market at the same time, how are you going to make sure you catch the attention of employers?
Here are some strategies you can try. Take a look below.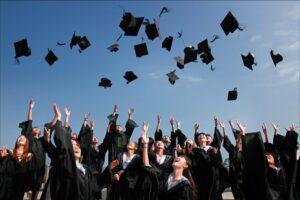 Don't take some time off; look for work NOW.
If you don't already have a job lined up, understand that this isn't really your summer vacation: you're an adult now and it's time to do adult things, such as finding gainful employment.
Many high school and college seniors have jobs lined up already. If you don't, you need to get your hustle on. Now! Because the longer you wait, the less attractive you become to an employer ("So you've been sitting on the beach all summer? Nice tan! Do anything productive? No? Not a lot of initiative on your part. Next!")
Start talking to people.
That's right. Start finding people who can help you find work and go out there and let them know you're looking! Yes, you can browse the job boards and apply there, but if all you do is hit send on applications, you're not hustling: you're sitting at the smartphone/tablet/computer and hitting send (it's as if you're playing a really boring video game).
Don't be afraid to approach the companies at which you want to work, even if they're "not hiring" right now.
Yes, going to an employer or hiring manager and saying (basically) "Here I am. You should hire me for such and such because I have this skill and that skill and another skill." Seriously: doing so shows drive and boldness.
Besides, you're young. You'll look assertive in a good way. (And if they reject you because of this? Believe us; you don't want to work for a person/company that thinks being assertive is a bad thing!)
Actually, you don't have to approach a hiring manager and ask for work. You could approach her and ask for information. As in "I'm interested in the XYZ industry as a career. I just graduated high school/college and I have these skills and this experience. Could I take 30 minutes of your time so that I can learn more about what people in your position look for in job candidates?
Hint: People with a few career years under their belt LOVE to help people just getting started. They do! Who doesn't like to look smart and successful and give advice to ears eager to hear Every. Word. You. Say? Nobody, that's who! So long as you're polite and respectful of the person's time, chances are great that she will be happy to talk to you.
(Another tip: make sure to approach people who actually could hire you; don't go to the human resources department because the folks there screen applicants and they don't actually make hiring decisions.)
Once your meeting is over, ask if there's anyone the person recommends you should approach next. And while it won't happen every time, the person may say there's a job opening right now. NOW!!! And do you have a resume you could send her?
Speaking of your resume, tweak it for EVERY job for which you apply.
"Ugh," we can hear you saying. "EVERY job? That's a lot of work!" That's right, it is. But no two jobs are alike. They may have the same title and be in the same industry, but each hiring manager's needs will be slightly different so you should change the resume for each job description, highlighting the things in your background (skills, education, experience) that speak to those needs (without lying about your skills, education, experience).
Your post-college/high school life lies before you. Go out there and get it!
Helpmates can help you. Take a look at our current job opportunities to see if one or more of our temporary, temp-to-hire and direct-hire openings look interesting and, if so, apply as instructed. If you'd like to make an appointment for an interview, contact the Helpmates branch location nearest you.