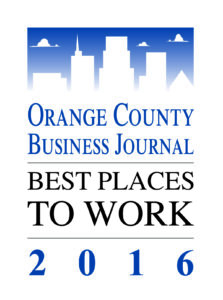 Irvine, Ca based Helpmates Staffing Services has been named one of Orange County's Best Places to Work by the Orange County Business Journal and the Best Companies Group. This county-wide survey and awards program was designed to identify, recognize and honor the best places of employment in Orange County, benefiting the county's economy, its workforce and businesses.
To be considered for participation, employers had to fulfill the following eligibility requirements:
Have at least 15 employees working in Orange County;
Be a for-profit or not-for-profit business or government entity;
Be a publicly or privately held business;
Have a facility in Orange County; and
Must be in business a minimum of 1 year.
Organizations from across the county entered the two-part process to determine the Best Places to Work in Orange County. The first part consisted of evaluating each employer's workplace policies, practices, and demographics. This part of the process was worth approximately 25% of the total evaluation. The second part consisted of an employee survey to measure the employee experience. This part of the process was worth approximately 75% of the total evaluation. The combined scores determined the top organizations and the final ranking. Best Companies Group managed the overall registration and survey process in Orange County and also analyzed the data and used their expertise to determine the final ranking.
"We are honored to have been selected to this prestigious list of companies," said Anthony Valentin, Chief Operating Officer at Helpmates. "When you consider the companies that are represented on this list, it is a virtual "who's who" of successful and well-respected organizations in the Orange County area," Valentin said.
The ranking of the winning organizations will be released via a special section of the Orange County Business Journal's July 25 issue. According to Valentin, "This award is a testament to our company values, teamwork and the camaraderie that is demonstrated at all levels of our organization. We take pride in our ability to serve our employees and have worked very hard to nurture an environment where there is accessibility to our leadership and transparency in how we run our organization. Such accessibility and transparency transcends the typical "open door policy" and it is expressed through our team member's satisfaction levels"
About Helpmates
With offices throughout Southern California, Helpmates is a premier Staffing Solutions provider with a primary focus in Clerical, Office Professional, Accounting & Finance and Logistics, Distribution and Manufacturing segments. Founded in 1972 and with more than 43 years of experience, Helpmates has partnered with thousands of clients to provide value-driven labor solutions with a high level of customer service.
For more information and to experience the Helpmates Difference, please visit hm.cestg.net