Helpmates Staffing has been named one of Orange County's Best Places to Work 2018 by the Orange County Business Journal.
Run by the Business Journal as well as the Best Companies Group, an independent research firm located in Pennsylvania, the annual Best Places to Work survey and awards program identifies, recognizes and honors the best employers in Orange County.
To participate in the program, employers must: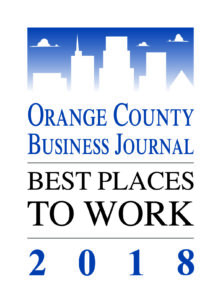 Have at least 15 permanent employees working in Orange County;
Have a facility in the county;
Be a not-for-profit or for-profit business or government entity; and
Must have been in business for at least one year.
"This is our second time on the Best Places to Work list and it's truly because of our great employees," said Rosalie Villa, Helpmates' chief revenue officer. "They truly embrace Helpmates' values: our culture of teamwork and camaraderie, as well as our focus on service to both our candidates and clients.
"This award really speaks to the quality of our leadership and how their accessibility, transparency and commitment to Helpmates' team members has made our staffing service known throughout the Southern California region as the staffing firm to work for among the area's staffing professionals."
Companies participating in the survey went through a two-part process:
The first part evaluated each employer's workplace policies, practices and demographics. This part was worth about one-quarter of the total evaluation.
The second part consisted of an employee survey that measured employee experience. This part was worth three-fourths of the total evaluation.
The Best Companies Group managed the overall registration and survey process as well as analyzed the data and used its expertise in determining the final rankings.
The Orange County Business Journal published the Best Places to Work special report in its July 23 issue.
If you'd like more information about how Helpmates can help you find work with some of the region's top employers or help you find some of the top workers in the region, contact the Helpmates office nearest you.