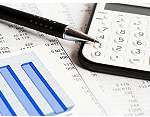 If you're practical minded with a strong attention to detail, a love for numbers, and a penchant for solving logical problems—and also enjoy working with figures, columns, and spreadsheets—then accounting is a great career for you. There's more good news for accountants and aspiring accountants: the U.S. Bureau of Labor Statistics projects that accounting careers will grow by 15.7 percent between 2010 and 2020, opening up plenty of employment opportunities.
In our career spotlight, we'll take a look at what you need to be an accountant, and what you'll get from this rewarding career.
Educational requirements
For most accounting careers, you'll need a four-year bachelor's degree in either accounting or a related field. While not a requirement, many accountants elect to obtain certification, which can further your career choices. The most common of these is to become a Certified Public Accountant (CPA). Most states require a minimum of 150 hours of related coursework before you can take the CPA certification exam.
In some cases, accountants continue their education beyond a bachelor's degree, so they can work in specialized fields. Many of these professionals are public accountants who work with a variety of clients on a range of financial projects, but there are also opportunities for management accountants, government accountants, and even forensic accountants.
Show me the money
It's no surprise that accountants, whose work requires a specialized skill set, earn healthy salaries. The Bureau of Labor Statistics reports that the median salary for accountants in the United States is slightly higher than $60,000 a year. In addition, the top 10 percent of accountants earn more than $100,000 annually, in a career that provides ample opportunity for growth and advancement.
We're here to help
Helpmates Staffing can help you find the ideal career in accounting. For more than 40 years, we've worked with top employers throughout Southern California, and we offer job candidates unique opportunities that aren't available anywhere else. Contact us today to learn more about how Helpmates can further your career.