Yes, it's true: job candidates much prefer a text from a recruiter than receiving a phone call.
You probably can guess why from your own experience: a phone call is very disruptive. You don't know if the call will take one minute of your time or 20. You don't know if the caller is bringing bad news or good. If you don't recognize the number, you probably think it's a scammer, so you ignore it.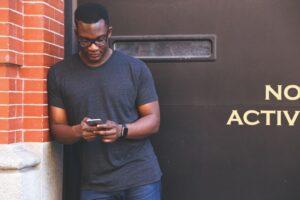 The good news, for recruiters….
Texts have an open rate of more than 90 percent within the first three minutes of being received.
That said, here are some additional great reasons to move from a phone call to texting, at least for your first few contacts that aren't filled with details (detailed information is best heard and understood via a phone conversation, so that the recipient can ask important questions, etc.).
Messaging shows candidates you value their time.
Time, even though it feels to pass so slowly during the pandemic, nevertheless feels quite precious right now. We have so much on our plates and answering a call when we don't know how long we'll be engaged in conversation just feels as if the caller is asking too much of us.
Candidates can look at the message — and reply to it – when THEY feel ready.
Answering a ringing call now feels so disruptive, as if we have to drop everything. And what if it's bad news or we're asked for information we don't have. What if we don't answer it right away? Have we lost out on some great opportunity?
But texting etiquette has evolved: We used to feel we had to answer a text within mere moments, but we now feel more and more comfortable looking at it and then replying later. This thus gives them the chance to respond in a more professional way, when they're not in a meeting with their boss, etc.
Younger candidates actually feel a text is more personal.
Millennials and members of GenZ have come to think of text as more personal: after all, it's often how they "chat" with their friends and family over the course of  a day.
This personal touch can really help a recruiter since many people think of the recruiting process as impersonal (having to jump through a website application's hoops, for example….).
You can say goodbye to taking "too long" to acknowledge a candidate's application.
A big pet peeve of job candidates is that they apply for a job and then they hear…nothing. Sure, they may receive an automatic email, but many people (younger ones particularly) barely look at email anymore and only if necessary (such as for work).
Instead, setting up an automation tool that allows you to text someone that your company has received their application is often (as mentioned above) seen as a "personal" response to their candidacy: it helps make for a much better candidate experience.
If your Southern California company needs workers for temporary, temp-to-hire and even direct-hire assignments, call the Helpmates office nearest you for information on our recruiting, staffing and placement services.