As the new year begins and new starts….start, it may be a good time to take a look at your current employee rewards program to make sure it's one that helps your employees feel valued and engaged.
Take a look below for five ideas you may want to consider for revamping your rewards program.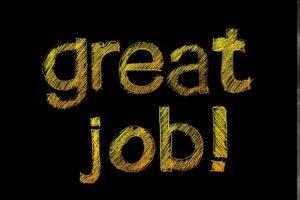 How often do you reward employees?
If you reward hard work just once a year with bonuses, naming an employee of the year, prizes, etc., why not up the number of times you acknowledge a job well done? In fact, why not reward employees in some small way every time they go above and beyond or otherwise provide exceptional work and/or results.
Give employees what they want, not what you think they want.
Take a survey: do your workers really enjoy the monthly Employee of the Month award? The Employee of the Year? Do they enjoy a Starbucks gift card when they hit a previously agreed-upon target?
Ask them and you may be surprised: perhaps more time off is a better prize than a plaque in the lobby. Points on their favorite airline also could be a winner. Even just a simple hand-written thank you note from the company's president can be huge when an employee does something "small" but nevertheless outstanding while on the job.
Are the rules for rewards programs/incentives fair?
Every employee in all departments in all locations should be eligible for your rewards program. If your workers start to believe that some positions or departments have an easier time of it in earning rewards they may become less engaged – even cynical – with your company's plans, ethos and goals.
Announce attaboys and -girls on social media.
And not just internal social media: praise and recognize employees on your public social channels. If the acknowledged worker is on a certain channel, make sure to tag the employee properly so that his or her social friends/followers will see the accolades.
Managers need recognition, too.
Yes, your line supervisors are making sure to reward and acknowledge their subordinates, but are managers' supervisors keeping an eye on their direct downline, making sure they are rewarded and acknowledged when they – or their department – do exceptional work?
Employee engagement and satisfaction is critical to your company's ability to retain and attract top talent. Beefing up and/or tweaking your employee rewards program can be a "quick win" in your ongoing work to keep employees satisfied.
If your Irvine company needs top talent for your temporary, temp-to-hire and direct-hire career opportunities, contact the Helpmates office nearest you. We look forward to helping your company find and hire the best!