You've found the best candidates, put them through your hiring process and ultimately made a hire – congratulations! Your new hire is ready to get to work. But your job isn't over once the hire is made. Each interview presents an opportunity for your company to learn, adapt and further build its employer brand.
Follow these 5 steps after every job interview to continuously improve and attract top talent: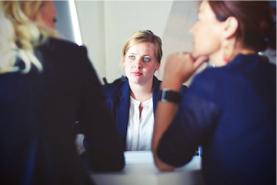 Ask candidates for feedback. The best way to know how candidates view your company and your hiring process is the easiest – ask them! Whether anonymously via an online survey provider, or via email or phone call after the process has been completed, candidate surveys can provide excellent insight into your company, employer brand and hiring process. But be prepared – most of the candidates you survey will not have received the job, and they may be (understandably) upset. Honestly assessing critical or negative feedback, though, can help your organization tremendously.
Identify delays or snags in the process. Every organization and hire is different, but it can cost you top talent when your hiring process is exceedingly long. After each interview, take an honest look at the process to see where you can trim unnecessary steps. A leaner process is better for talent, and it helps get new hires to work for you, faster! If you need help identifying some

common hiring process delays, we recently profiled three of them in our blog

.
Examine your notes. Take a look at notes gathered during each interview. If you had multiple interviewers, be sure to gather and review their notes too. Did you get all the information you needed to make the best hiring decision? The questions you ask – or how you are asking them, could affect the information gathered that ultimately enables you to make the best hire. If there are gaps in the information you prefer to have, determine why you were unable to get that information, and take steps to ensure you're gathering everything you need in the future.
Look for what's missing. Rather than just looking at what you gathered during the process, take a look at what you didn't gather. Could something have made the hiring decision easier? Would including another team member in the first round of interviews made moving into the second round easier? Could a skills test or references upon application help you bring in only the most qualified candidates, saving time and resources? If you need help identifying key data or gaps in your process, call Helpmates. Our experienced team of recruiters can analyze your hiring process to determine the best, most efficient way to identify and interview only the best candidates for each position.
Be honest. Honesty and candor are essential here and during every step of your interview review. Whether it's reviewing candidate feedback or identifying holes in your process or interview questions, taking a fresh look at your job interviews every time will help you improve. But most importantly, it will help you attract and land better talent.
Attracting, screening and interviewing candidates can be a major time and resource burden for organizations. Here at Helpmates, we help some of Southern California's top employers find the best talent to help them reach your goals. Call your local Helpmates office to learn more about how we can help your business.